Paramount Automotive Website
Paramount Automotive is a manufacturer of high quality, off road truck, Jeep and automotive accessories. EKKO Media was tasked with delivering a website that provided users and easy and intuitive search tool. The end-result achieved all of these goals and was recognized with several industry design awards.
client

Service

Technology

HTML + SASS
Javascript
Magento
SAP Integration

Awards & Recognition
01
Project Background
Paramount Automotive has been a major player in the aftermarket truck and SUV market for many years. Over that time, they've established a strong brand, but their visual messaging and in particular, their website, was showing its age. Paramount's owners decided it was time for a reboot of both their branding and website. EKKO Media was called upon to jumpstart both.
The brand's visuals would need to come first, followed by integration of the design and color theme into the new website. Once that was done, we turned our attention to the website. As part of the reboot, a new CMS would be rolled out, one with full eCommerce capabilities so as to accommodate interaction with distributors, retailers and consumers who wished to purchase products online. The site had to appeal to a finicky demographic through powerful imagery, but had to be easy to conduct transactions at every level.
02
The EKKO Approach
Having a long history in the automotive industry, the team at EKKO Media intimately understands the demographics of this market. Our comprehensive understanding of the three step distribution chain was also important to successful execution of this project. This translated into developing different visuals and a tiered eCommerce platform that would provide different viewing experiences depending on whether the viewers were authorized distributors or end-users.
This also meant developing different search tools within the site so that any viewer could quickly find the content in a manner that was easy to navigate. Adding to these challenges was the mandate that whatever system we put in place must be backwards-compatible with legacy inventory management systems.
03
Platform and Development Frameworks
With the complexities and requirements on this project, it was important to first and foremost decide on what platform would fulfill the needs of the client. After lengthy discussions and based upon our recommendation, it was decided that the Magento platform would provide the greatest flexibility. Magento would meet all client requirements, fit inside the client's budgets and provided the best scalability.
EKKO Media's first task was set up the server infrastructure to support the project. The next step was to customize the Magento framework in order to achieve all of the functionality needed. Custom functions were created to allow the Magento system to sync data to the internal warehouse system running the SAGE software. A script was created that would sync the inventory at set intervals throughout the day ensuring that the online system was up to date.
04
Site Design
The Paramount Automotive website required a rugged design that spoke to its consumer base and created an instant brand appeal. Grayscale tones were offset with robust red accents to connect the new logo to the website design. Creating the look and feel of the website was just the beginning, as none of this can compensate for a poor user interface on desktop and mobile. Easy-to-use navigation was a challenge due to the amount of product offerings. A "mega menu" was designed to give the users a quick and easy way to drill down and locate the product category and the product they're looking for.
The design also implements a "search by vehicle" function that allows the user to select their vehicle make, model and year and only products that fit their selected vehicle are displayed. This, in addition to the mega menu design, gives users more flexibility in locating products. Standard search is available as well. The end result is an edgy design that blends powerful visuals with robust navigation.

05
Core Functionality and Features
While a great deal of focus was on ease of navigation, the website was packed with many other robust features. There are many new features to the site such as social media integration, a greater abundance of rich media content, expanded video content and a more direct conduit to customer service.
The site also includes custom functionality that syncs their inventory with their eCommerce store, making the inventory management process more seamlessly integrated. All of these functions are controlled from a comprehensive Content Management System.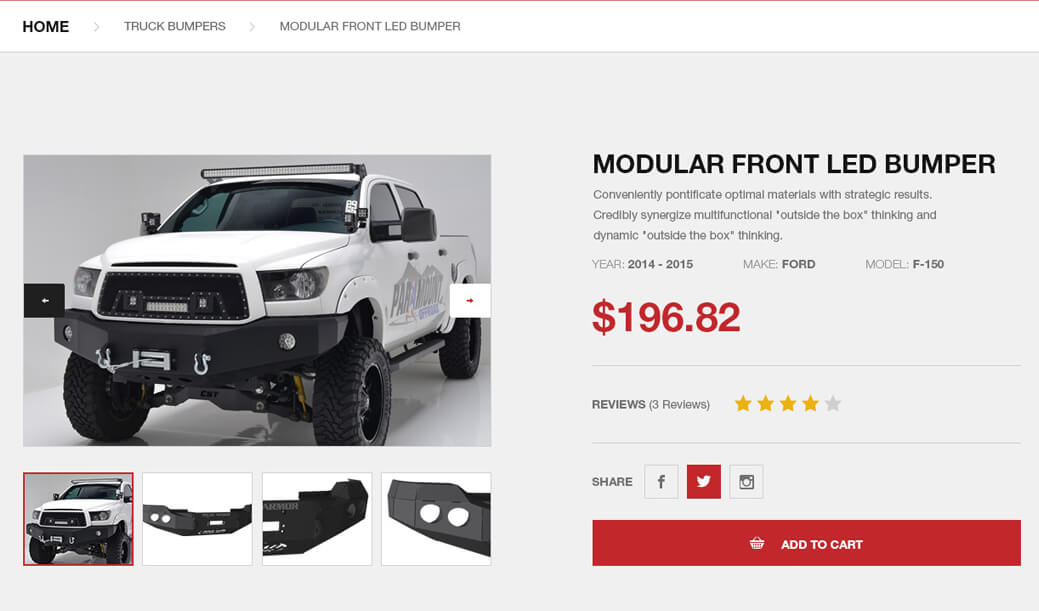 In-Depth Product Details
Each product in the Paramount Automotive site allows for association to vehicles, details on specifications, media galleries, social sharing and reviews.
Dealer Login & Custom Pricing
Each active dealer in the Paramount Automotive site has the flexibility to be assigned product pricing based on account type, discount rate and location.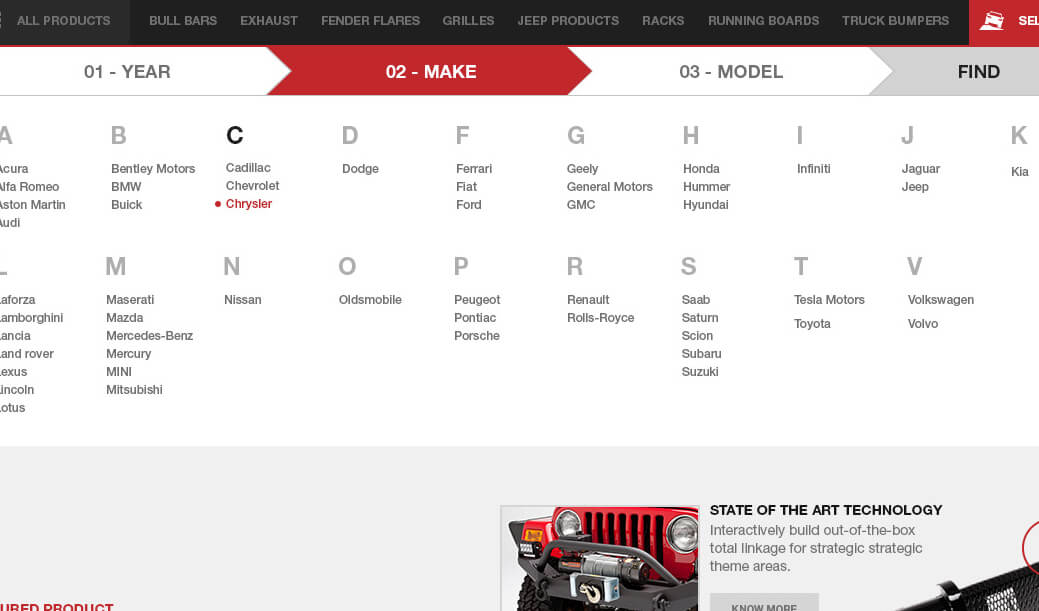 Search By Vehicle
The search by vehicle allows visitors of the site to quickly find any product in the Paramount Automotive catalog filtered down to the specific selected vehicle make, model and year.
06
Outcome
In addition to a substantial spike in online sales, the site increased traffic by more than 60% in the first three months. The site also received several industry awards for design.