client

Service

Interactive Websites
Search Engine Optimization (SEO)

Technology

Awards & Recognition

CSS Design Awards
CSS Winner
CSS Light
01
eCommerce in a Competitive Marketplace
PowerBass Audio is an online retailer was founded in 2001 with one goal in mind: to bring audio products to the market that offer great sonic excellence. To compete in today's ecommerce world requires a website that conveys the superb quality of their product but in a format that engages users.
EKKO Media was tasked with developing a site that offers a great user experience (UX) and moves customer's eyes through the website in a manner to conducive to an informed purchase decision.
02
Robust Content Plan
Customers shopping for audio components tend to be fairly tech savvy. To impress upon them the quality of PowerBass Audio's offerings is something that requires more than marketing clichés and graphs. To accomplish this, we embarked on a robust content plan that would include new sections like "News and Events" and a Blog section. This will allow PowerBass Audio to better communicate with and engage their customers.
03
Satisfying a Global Appetite
Given their global audience, multi-language support would be mandatory. More than 30% of the visitors on an average website come from search engines. Almost all the searches are done in the native language of the searcher. If a website has no content in their language, they will never even see a company's site in the results. We integrated an industry-standard translation tool that helps support users in XX different languages.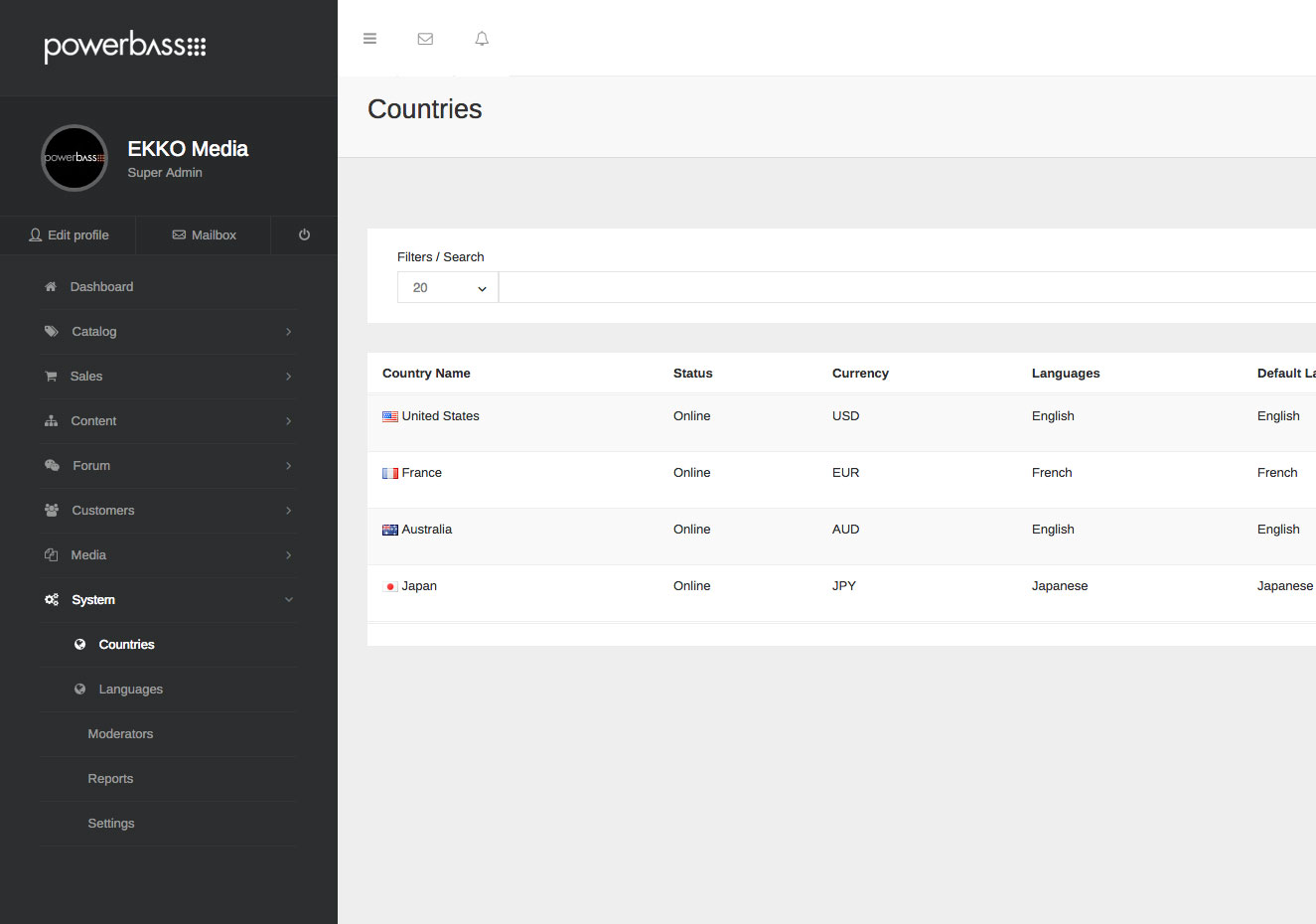 04
Responsive Design
Since 85% of internet users are browsing on a mobile device, making a website that is responsive (adaptive) to any sized screen was of paramount consideration. The extra time necessary to test and validate this functionality across multiple devices using a myriad of operating systems and browsers is all in a day's work for our team.
In fact, we don't build our websites any other way. Of further consideration is the value Google's search algorithms place on a good user experience.
06
Core Functionality and Features
The site provides a stylish user interface that allows for easy navigation throughout the various sections of content. Multi-language support helps ensure global appeal and a Dealer Locator function is built-in to the site.
Product comparisons, spec sheets and full data are easily accessible. Social media integration is handled using APIs to help feed continuous fresh content and to better engage site visitors.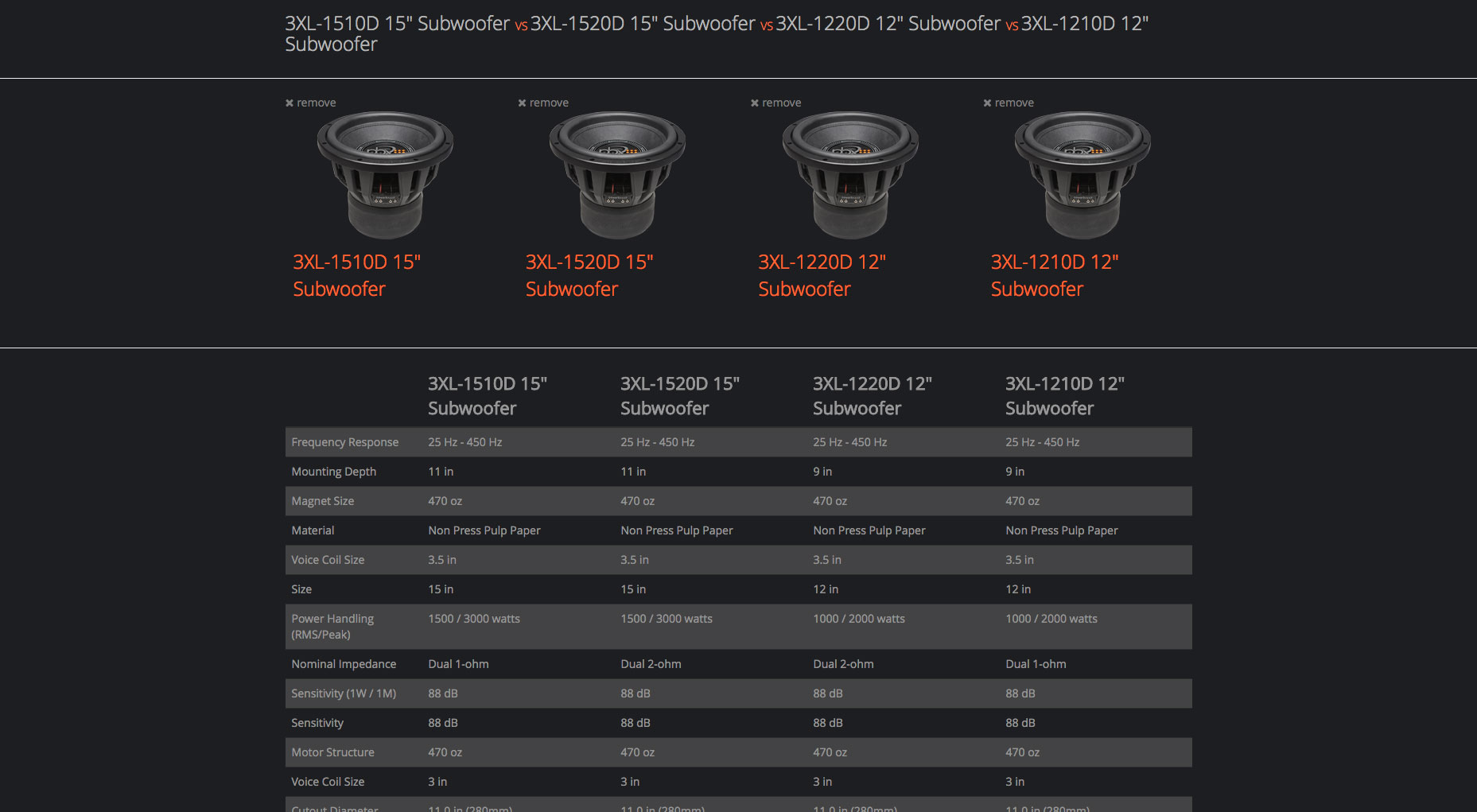 Product Comparisons in a New Light
Product comparisons allow users to compare product specifications, applications and suitability to their needs. With this functionality, users can view and select components they may be considering, then select other components and compare the data to help guide them to the best decision to satisfy their specific needs.
Media and Downloads
In the highly technical world of consumer electronics, the ability for users to research all aspects of their purchase is highly desirable. For this website, we've ensured that consumers have full access to catalogs, spec sheets, a gallery of images and videos to help support their purchase decisions.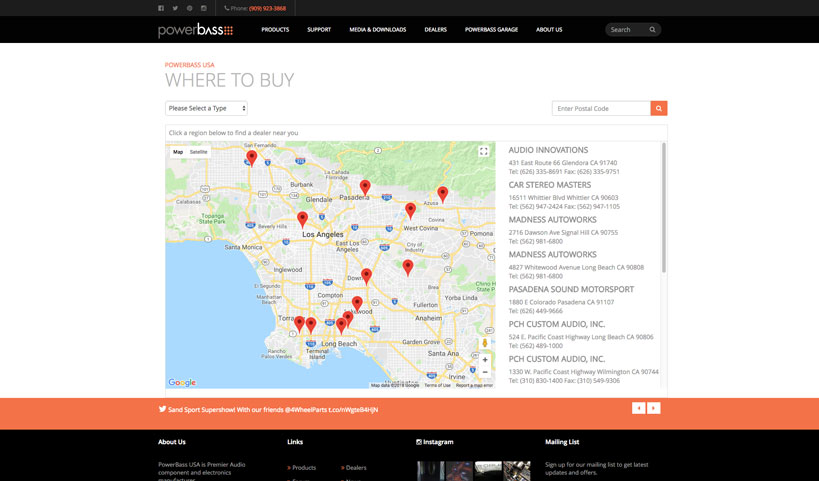 Dealer Locator
As a company that sells both to dealers and to consumers, it is important to help facilitate rapid transactions. In many cases, consumers like to buy from local dealers and to accomplish this, PowerBass Audio uses a Dealer Locator tool that we've integrated into the website. This also pays dividends to the dealers who have a vested interest in ensuring exemplary turns in inventory.
07
Outcome
It's always nice to receive design awards for our efforts, but the real winners here are the client and their customers who are now enjoying the benefits of a rich media website that provides a best-in-class user experience. The launch of the new site has bolstered the brand's reputation as an industry leader.
65
Days to Design & Build