Monster Java Gear
EKKO Media was called upon to design and develop the next Monster Java Gear website. The site leverages the large Monster Energy fan base and the connection to Monster Java coffee line, engaging users in a seamless promotional experiencing.
client

Service

Interactive Websites
Custom eCommerce System
Content Mangagement System (CMS)

Technology

HTML + SASS
Javascript
Laravel

Awards & Recognition

CSS Design Awards
CSS Winner
CSS Light
01
Project Background
Monster Energy has depended on EKKO Media for their website needs time and again, including their main brand website, so it was only natural for us to provide them with another website that handles their needs effectively. They return annually so that EKKO can design a website that can convey their unique brand and handle the high traffic their fan base provides to direct users to participate in Monster Energy's promotional experience.
The main focus was to create a platform that allowed the users to sign up, mail in their tabs or complete several social media tasks for Monster credits, which allowed them to use the credits to purchase Monster Energy licensed apparel. This site is driven by a custom eCommerce system that was built from the ground-up to the specific requirements of the client.
02
Coffee Fans Are Now Monster Fans!
In a move that would promote their new line of coffee and allow Monster Energy to gather vital information on their target demographic, the new line of drinks aimed to draw in a new segment of the market previously unavailable with their original line of drinks. In order to promote their JAVA Monster drinks, Monster Energy enlisted EKKO Media to create a website that would draw in and encourage active engagement among users with the brand itself via its promotional campaign.
03
Platform and Development Frameworks
The site is powered by a custom CMS that closely ties their proprietary Monster Media system to the site and allows the global admins to create and push content to all any of Monster's country-specific sites. The front-end, as well as the CMS and data feeds, are running on the Amazon Web Service (AWS) architecture. with deployments in multiple data centers for improved performance and redundancy. The content is delivered over the expansive Akamai Content Delivery Network (CDN) so that all users globally have reduced latency.
04
Layout / Site Design / Staying Connected
Given that the goal of the promotion was to engage its target audience and have them sign up, the website used elements that allowed it to be navigated easily, without overwhelming them. Multiple formats were adapted and designed for desktop, tablet, and mobile audiences and special attention was given to ensuring that there was consistency through all platforms, despite the varying dimensions.
JAVA Monster has its own brand identity and visuals that is based off of, but unique from the original Monster Energy so the EKKO team worked to establish a design that conveys the JAVA brand but is still familiar to the original audience.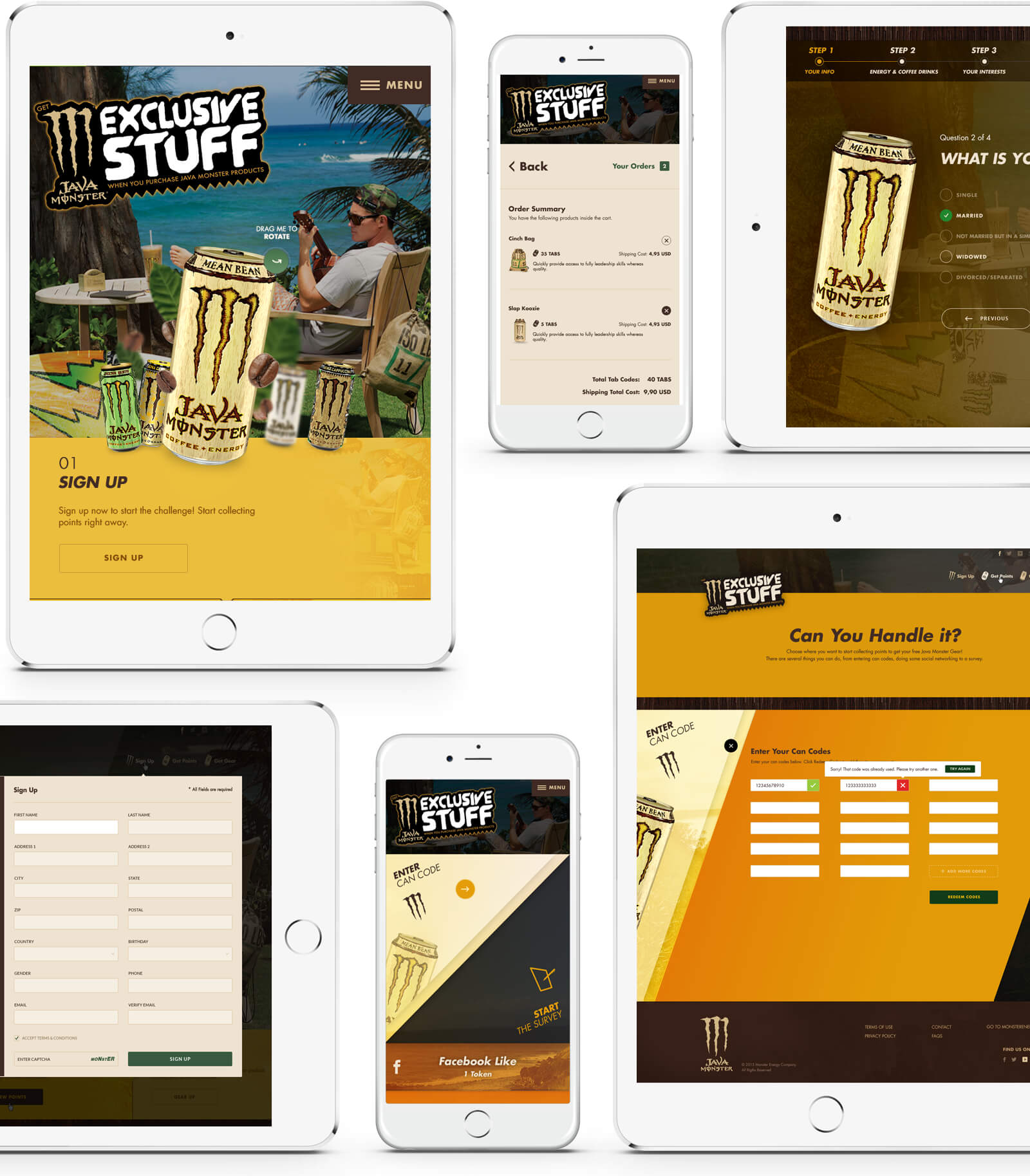 05
Core Functionality & Features
The Java Monster Energy Gear Promotion provides its users with an easy and intuitive interface that allows for easy registration, tab credits and redemption. All user credits are tracked individually in each account as well as through a custom CMS that give the admins of the site full control of all functions and features. Some of those include the following listed below.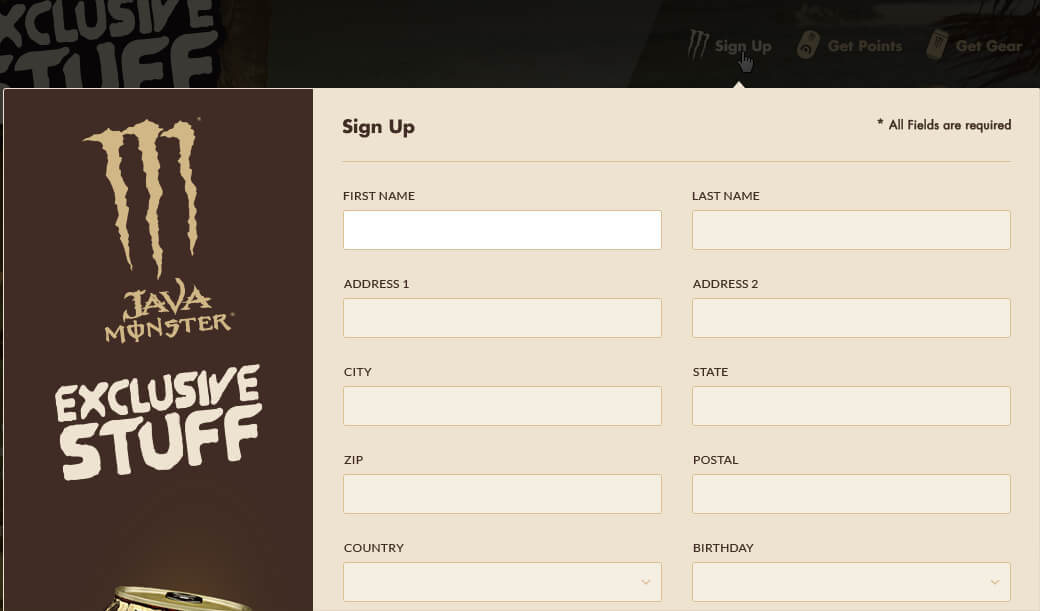 User Account Registration
Users are guided through a simple step-by-step process to create an account and easily input their tabs to redeem their Monster credits.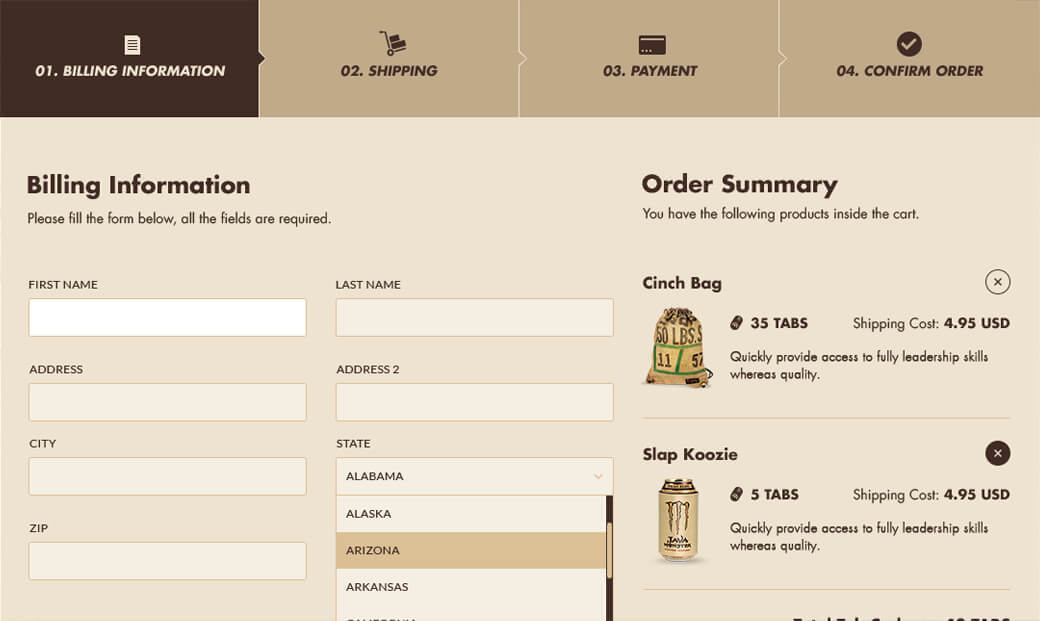 Custom Built eCommerce System
Even the checkout page stays true to the brand's visuals and seamlessly guides the user through the payment process.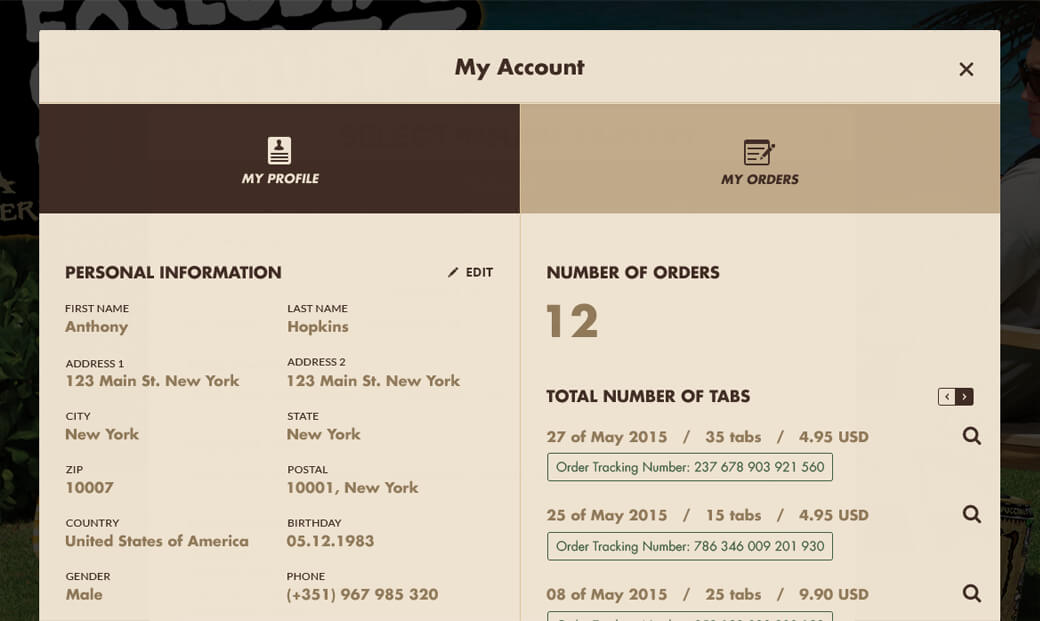 User Accounts With Order & Credit Management
By directing users to create an account, all aspects of tracking and redeeming credits are handled inside one interface, making redemption simple and error-free.
06
Project Outcome
The promotional sites we've built for Monster have always exceeded the client's expectations at all levels. It's no wonder Monster Energy continues to run the promotions and why Monster Energy continues to rely upon EKKO Media to bring it all together. The final validation came from the spike in users registered, with a 475% increase in registered users and a 280% increase in traffic worldwide.
475%
Increase in registered users
280%
Increase in traffic worldwide