Relentless Energy Website
Relentless Energy came to EKKO Media to completely redesign their website to allow their users to easily navigate through their products and events.
client

Service

Technology

HTML + SASS
Javascript
Websockets
Ekko DNA
Ekko CMS

Awards & Recognition
01
Project Background
The Relentless Energy drink is a beverage mainly popular in the European market and needed an online presence that would capture and engage users in an interactive and visually pleasant website. Among the mandates was the desire for a simple user interface, bold colors, and easy navigation.
The focused product offerings allowed Relentless to stand out from the crowd and the product began gaining market share. This lead the marketing team to having to address their online presence. The Relentless Energy site was in need of a complete overhaul and EKKO Media was up to the task. Continue reading below to see how EKKO Media took this boutique energy drink brands online presence to the next level.
02
About the Brand Relentless Energy
Relentless Energy has targeted a unique segment in the European Energy drink market and has built a cult following due to its brand support of local artists and promoting music events. It didn't come easy for Relentless Energy as the brand had to fight for shelf space and sales against other major energy drink brands. 

They wanted a website that would allow their customers to see what events Relentless Energy was promoting in the following months, and highlight artists with articles published through their site. Relentless Energy products are also highlighted through dynamic video production within the site and this heightened their online presence to the next level.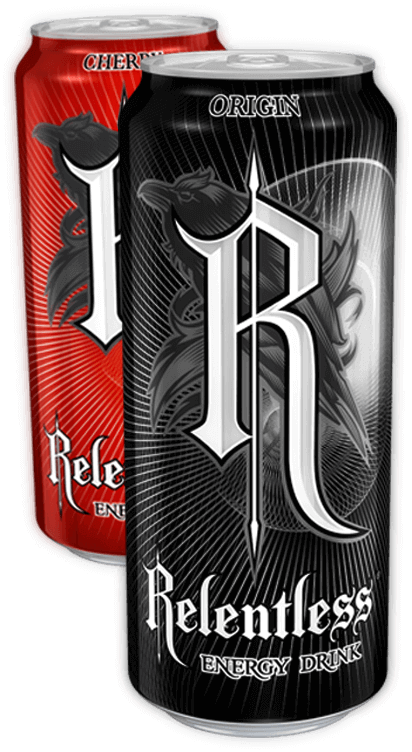 03
A Simplified Experience
Relentless Energy stressed the importance of having a unique website that would showcase and emphasize their personal branding. In addition to the overall visual requirements, the site needed to support multiple languages in deference to the brand's popularity in other countries.

The home page allows users to easily navigate through the products, articles, and future events in a simplified fashion that does not overwhelm them.
04
Platform and Development Frameworks
We knew from the outset that given the required functionality, the depth and breadth of user interactions, and the need for the client to manage the day to day maintenance in-house, this was going to require something far beyond off the shelf solutions.
The site is powered by a custom-built CMS that closely ties the Relentless Media system with the site and allows the global admins to create and push content to all different variations of the Relentless country sites. The Front-End, CMS, and Data Feeds are running on the Amazon Web Service (AWS) architecture with deployments in multiple data centers for improved performance and redundancy. The content is delivered over the expansive Akamai Content Delivery Network (CDN) so that all users globally have reduced latency and the best experience possible.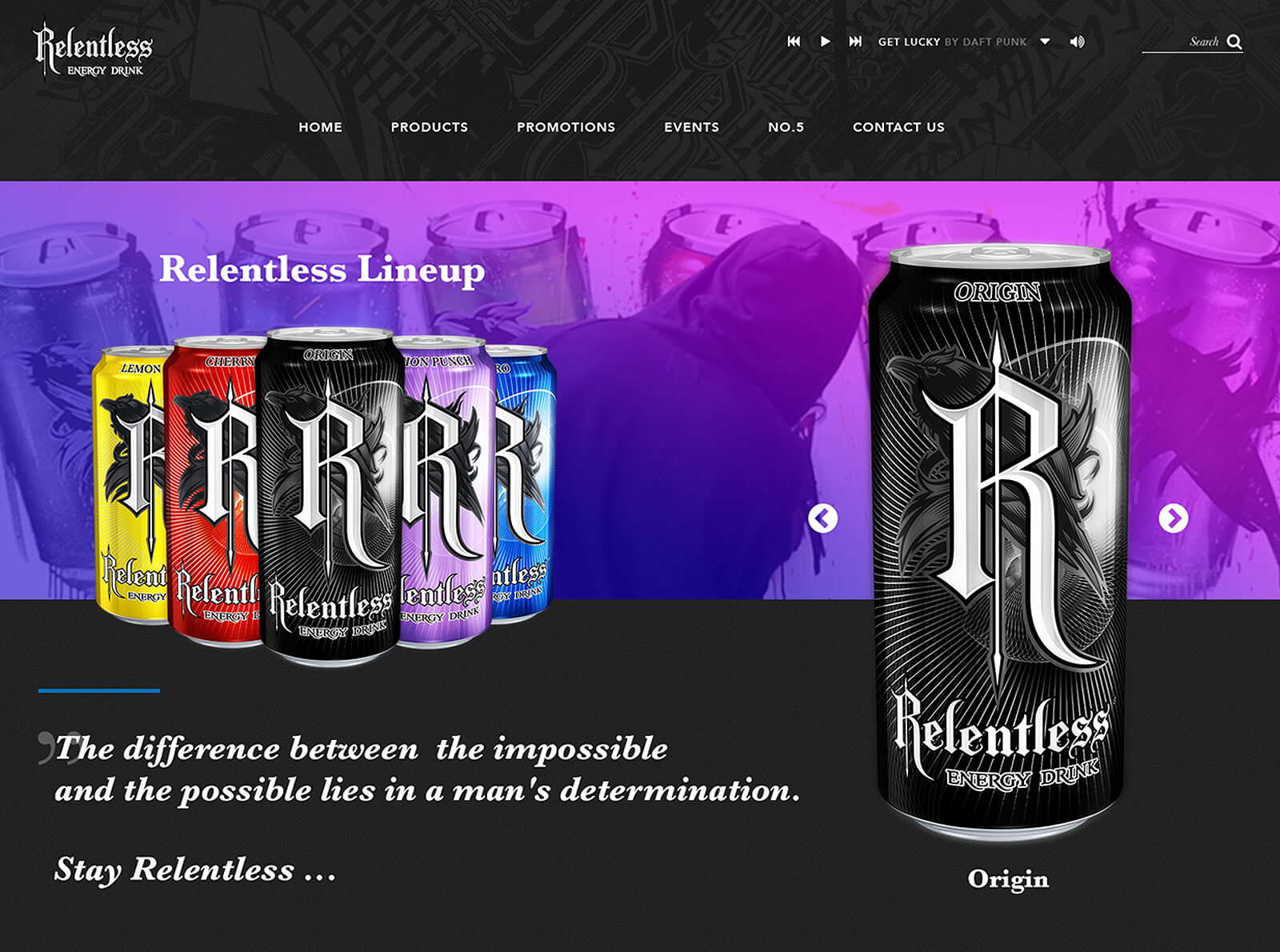 05
Site Design
The Relentless Energy interactive website required many feature updates and core changes that didn't exist on the previous site. The addition of user registration, interest-tracking, social platform integration, polls & quizzes, as well as scavenger hunts, are just some of the many features found on this new site build.
The EKKO team worked tirelessly to bring Relentless Energy's vision to life and to meet their goals. The end result was a highly visual site that closely intertwined the vast landscape of the Relentless Energy life and brand. This adaptive and quick loading site allows the fan base to quickly click through all that Relentless Energy has to offer.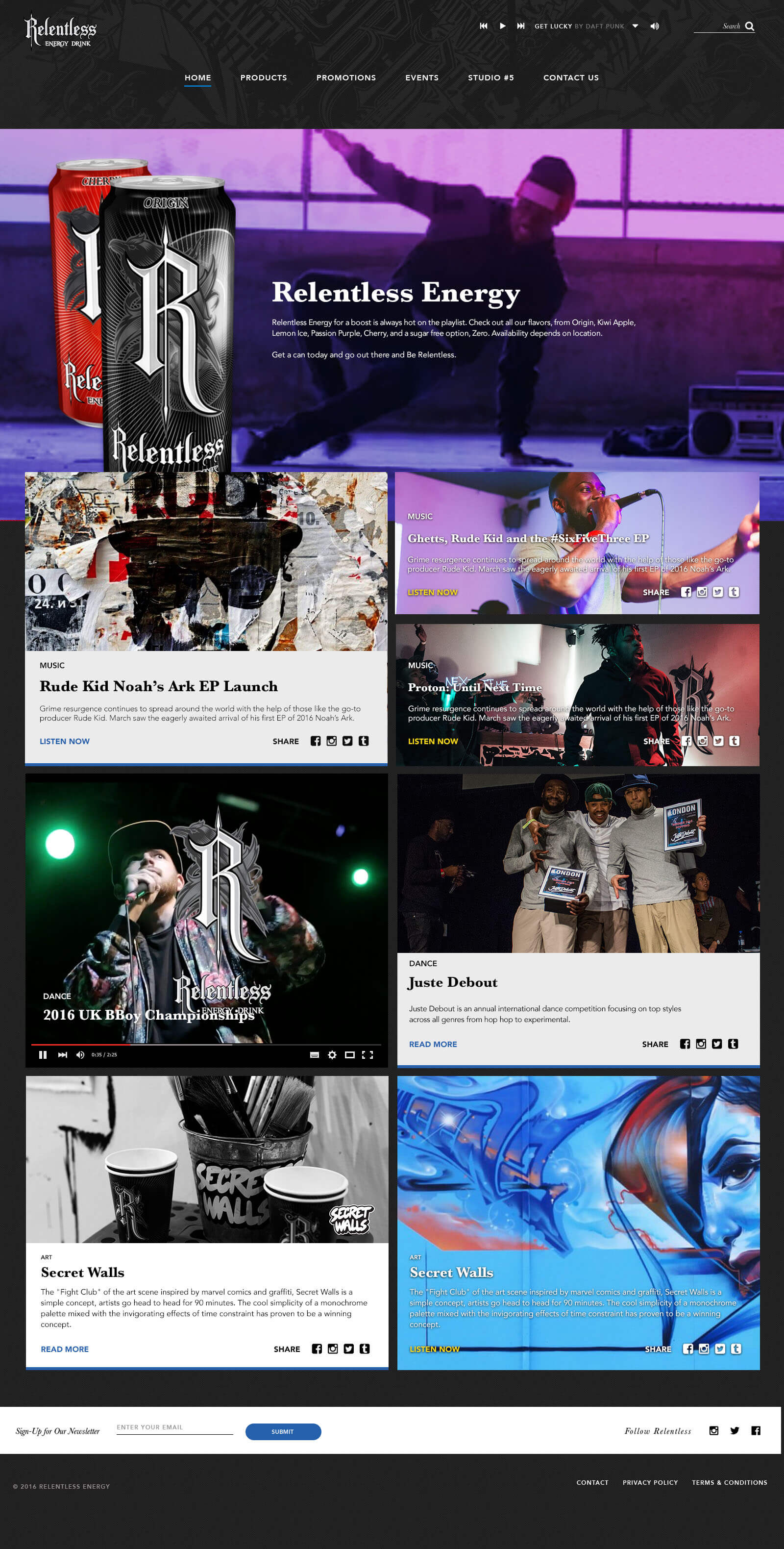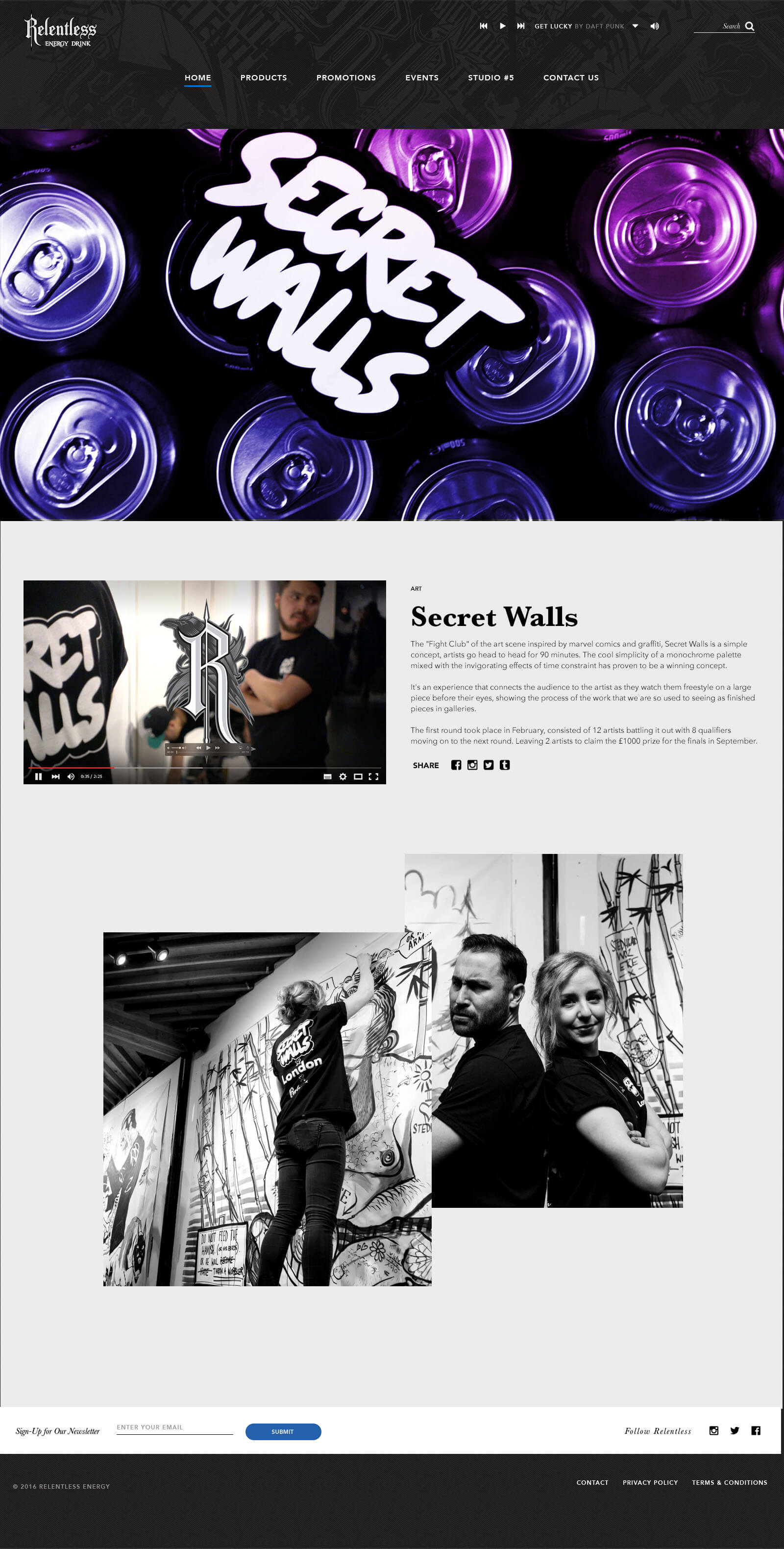 06
From Desktop to Mobile, and Everything In-Between
With the ever-changing device landscape and changes with respect to how consumers ingest websites these days, it's more important than ever for a website to be able to adapt to all platforms. The adaptive design of the site maintains consistency of the elements across platforms and scales to the device. Mouse-click interactions adapt to touch and allow the user to click, tap or swipe as needed depending on the user's platform of choice.
The goal for the Relentless Energy site accomplishes this using an adaptive layout that allows the users regardless of what device they're on to have a unified experience that not only pushes the boundaries of what's capable but does it in a way that still delivers fast load times regardless of connection speed.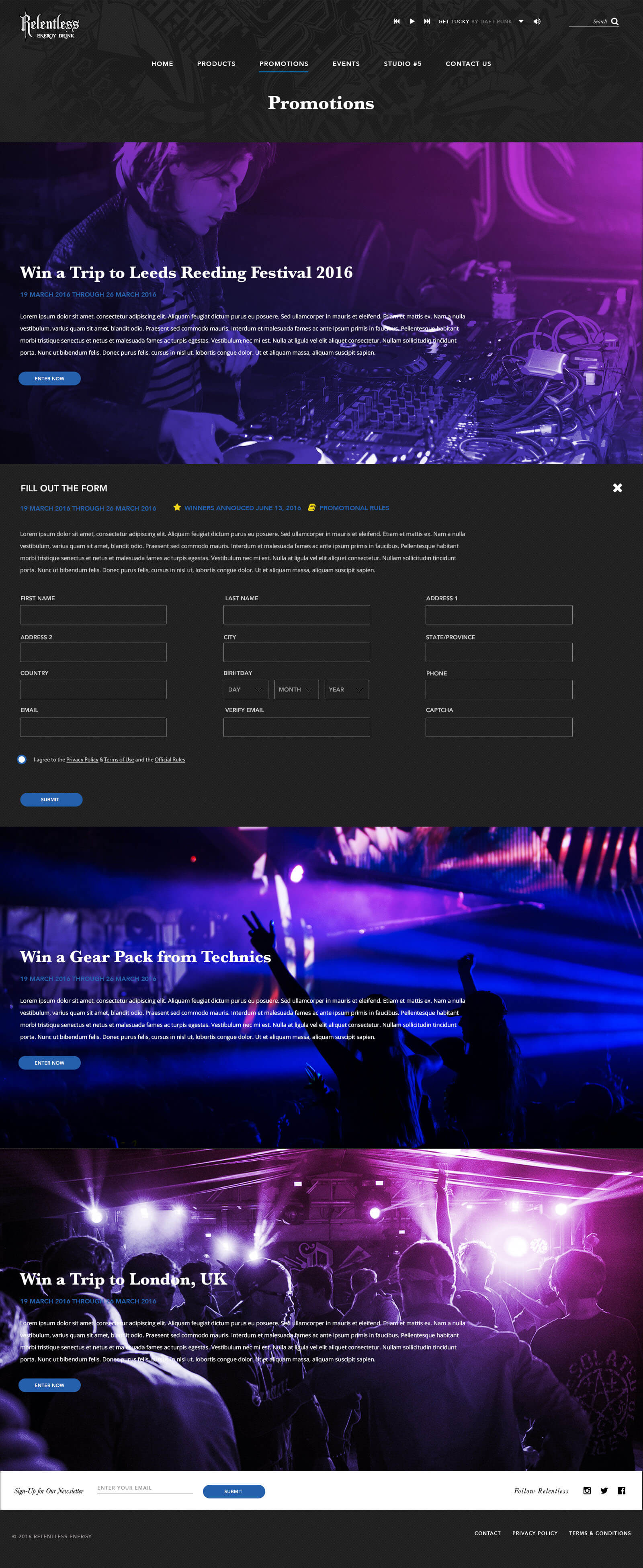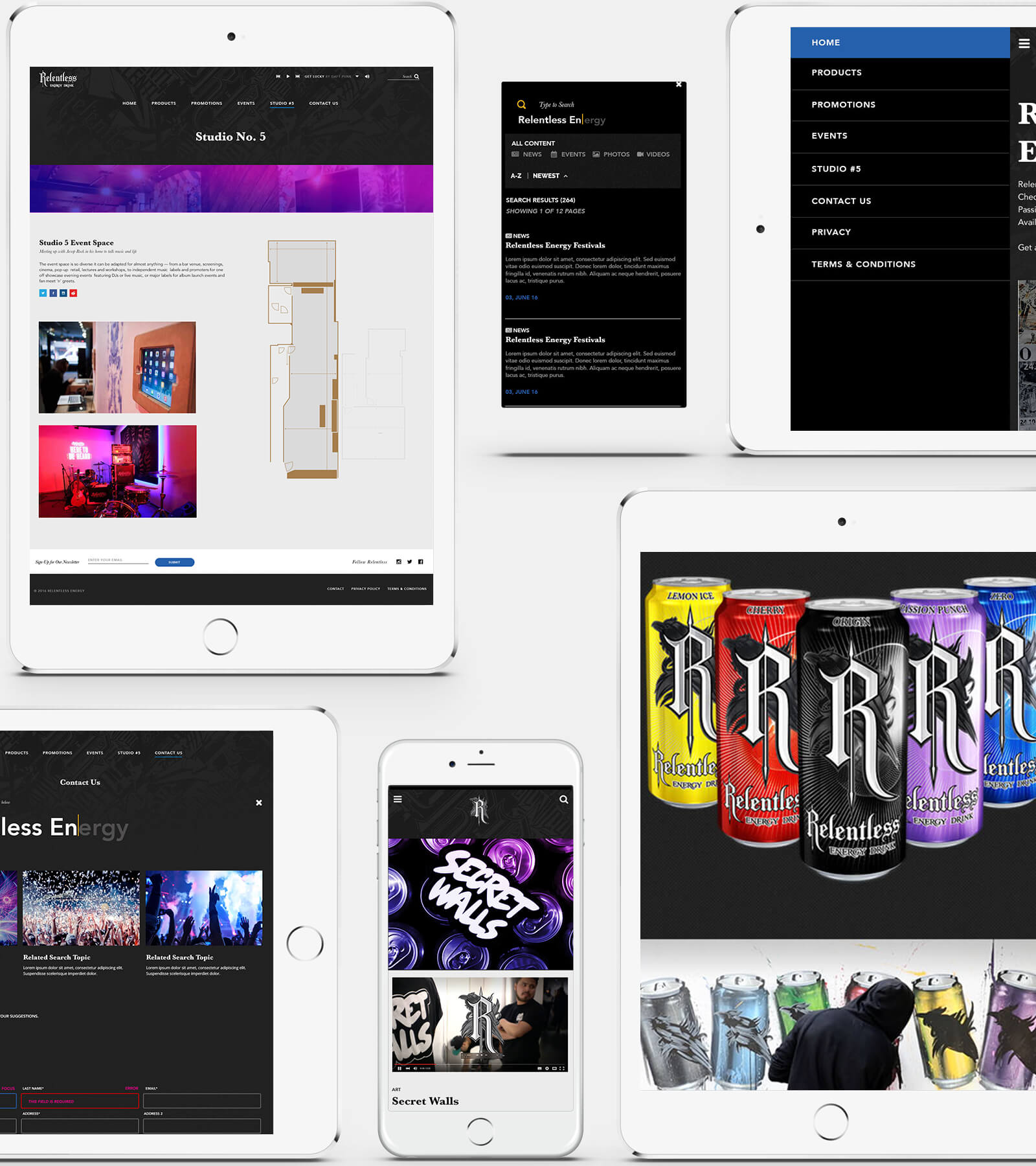 07
Core Functionality and Features
The Relentless Energy website features an adaptive design that allows it to be viewed across multiple platforms which is a must in today's use of multiple devices such as desktops, tablets, and smaller mobile devices. 
Users may easily get familiar with their range of products, scroll through articles, and sign up to receive promotions.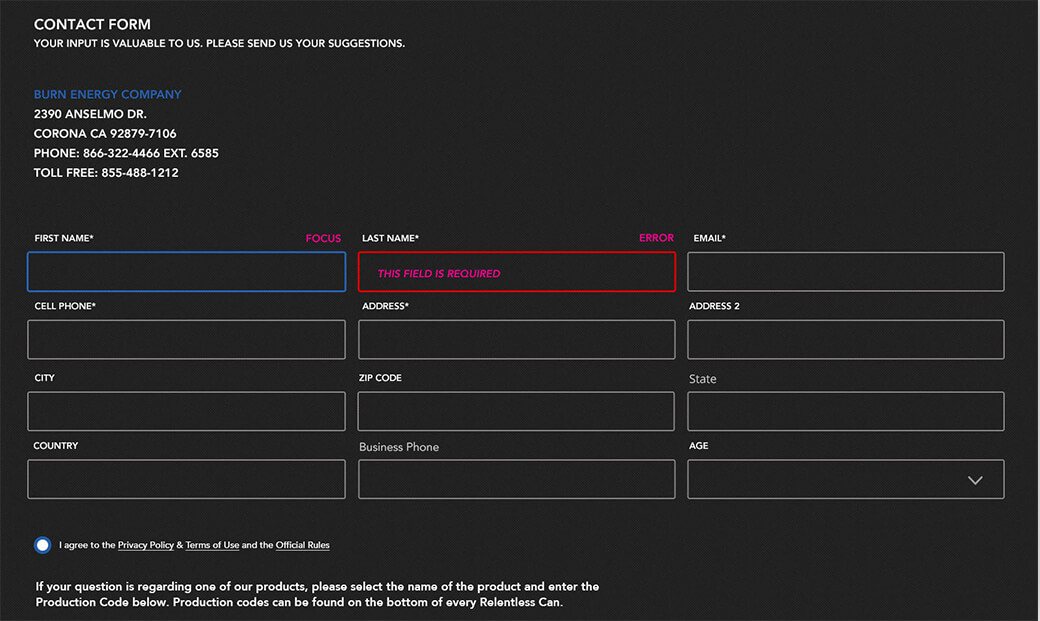 Keeping in Contact
Users may easily contact the Relentless Energy team by using the submission form that allows for different forms of contact. Their social media links are also readily available for users to continue keeping in touch with their favorite drink company.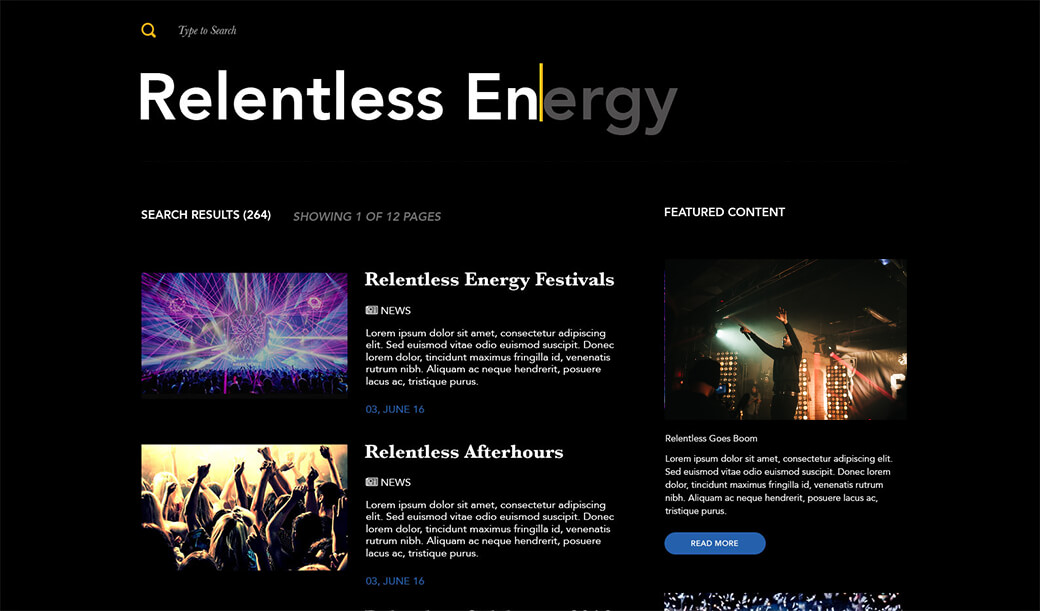 Relentless Lineup
Highlighting upcoming events and delivering the brand perception was key. This allowed users to keep up with the latest news on where they could find their favorite energy brand.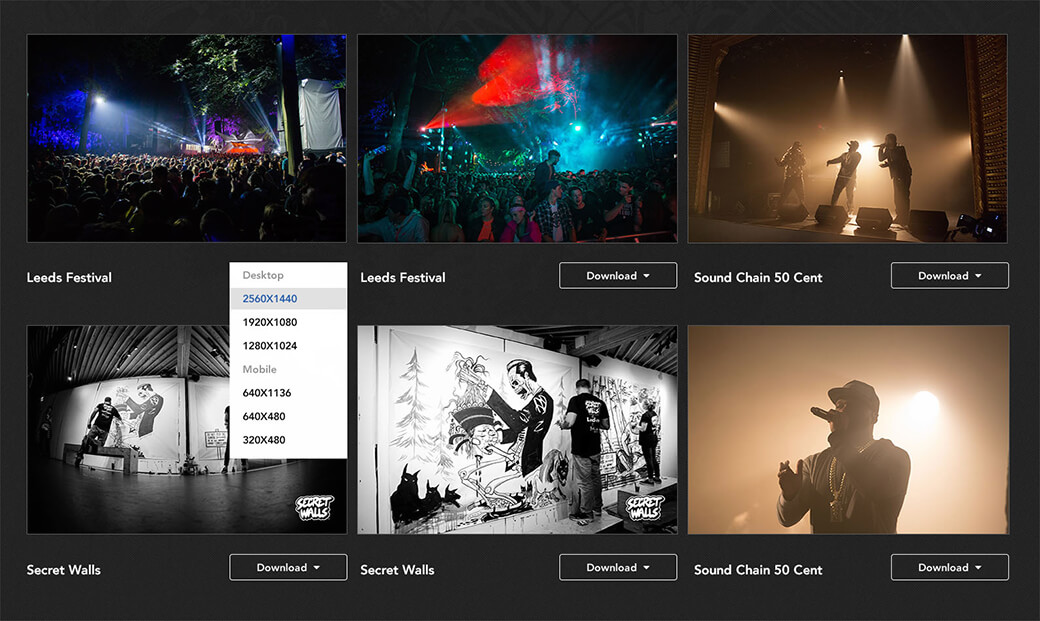 Relentless Downloads
Users may download any of the desktop or mobile backgrounds provided that highlight their product in a variety of dimensions.
07
Project Outcome
Ekko Media delivered a dynamic user interface for Relentless Energy with all requirements met in a matter of 12 weeks.