Monster Energy Gear 2017
Monster Energy's 2017 Gear promotion features a full custom eCommerce system built specifically for Monster Energy.
client

Service

Technology

HTML + SASS
Javascript
Fulfillment Integration
Ekko CMS

Awards & Recognition
01
Project Background
For years, Monster Energy has relied upon EKKO Media to design and develop their annual promotional website. The site leverages the large, Monster Energy fan base and their connection to their high-profile athletes and engages users in a seamless, promotional experience. The site features a highly visual responsive design that directs users to create an account, mail in their can tabs for Monster credits, after which they use those credits to purchase Monster Energy licensed apparel. The site is driven by a custom eCommerce system that was built from the ground-up to the specific requirements of the client.
02
North American Promotion
Monster Energy has an incredible brand following that has been built from strong brand integration in action sports, concerts and celebrity affiliations. These powerful partnerships have helped catapult the brand to make it one of the leading energy drink companies in the United States. Part of this success is attributable to how Monster engages its audience. This North American promotion is a perfect example.
03
Platform and Development Frameworks
The site is powered by a custom CMS that closely ties their proprietary Monster Media system to the site and allows the global admins to create and push content to all any of Monster's country-specific sites. The front-end, as well as the CMS and data feeds, are running on the Amazon Web Service (AWS) architecture, with deployments in multiple data centers for imporved performance and redundancy. The content is delivered over the expansive Akamai Content Delivery Network (CDN) so that all users globally have reduced latency.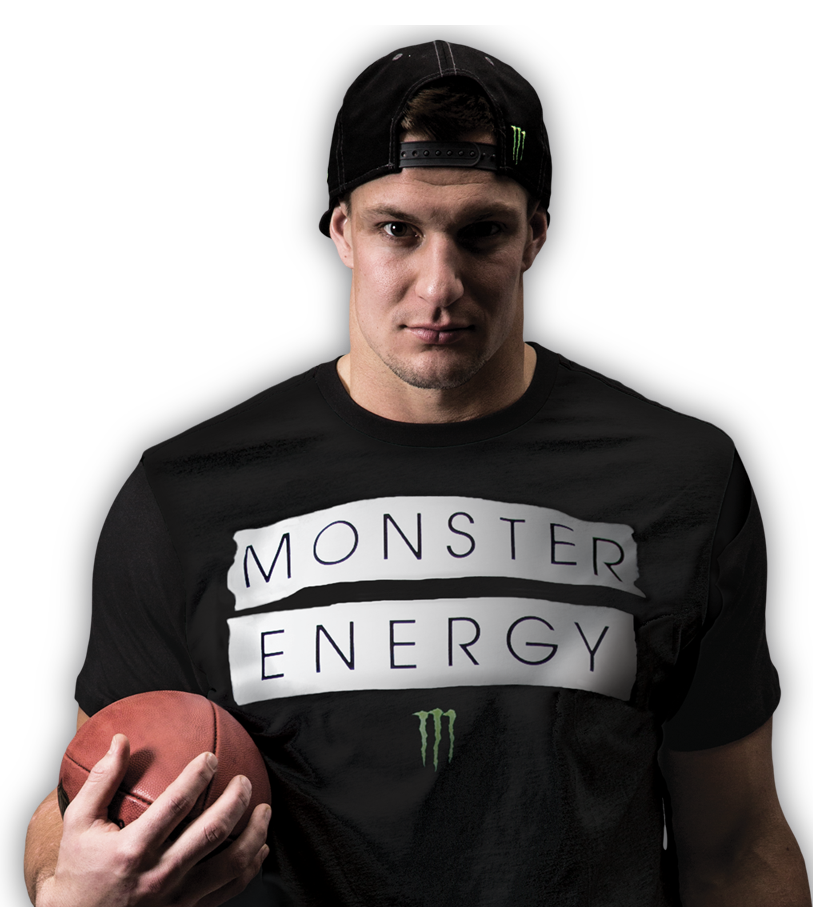 05
Site Design
Using an aesthetically appealing and intellectually designed framework as the basis, we were able to deliver a website that is easy-to-navigate and is highly effective at engaging users. Special emphasis was placed on consistency with other Monster Energy visuals.
In deference to the greater reliance upon mobile devices among audiences in this segment, special attention was paid to the mobile experience. Still, the powerful aesthetic elements and navigation elements had to carry over to mobile audiences in order to maintain brand consistency. This was especially critical given the historically short attention spans of users in this demographic.

06
Core Functionality and Features
The Monster Energy Gear Promotion provides its users with an easy and intuitive interface that allows for easy registration, tab credits and redemption. All user credits are tracked individually in each account as well as through a custom CMS that give the admins of the site full controll of all fuction and features. Some of those include the following listed below.
As a promotion that was to be based both in the United States and in Canada, each user-group needed to be handled and tracked differently. To accomplish the required tasks, we set up a system whereby visitors from the United States were funneled to a login page where they could either log in or register for an account. They were then redirected to a page where they would print a form containing an address to which the can tabs were to be mailed. After mailing in the can tabs, users would accumulate credits in their account. Canadian users could simply enter the 10-digit code printed on the back of their can tabs to get credits instantly. It was setup this way due to varying legislation from country to country.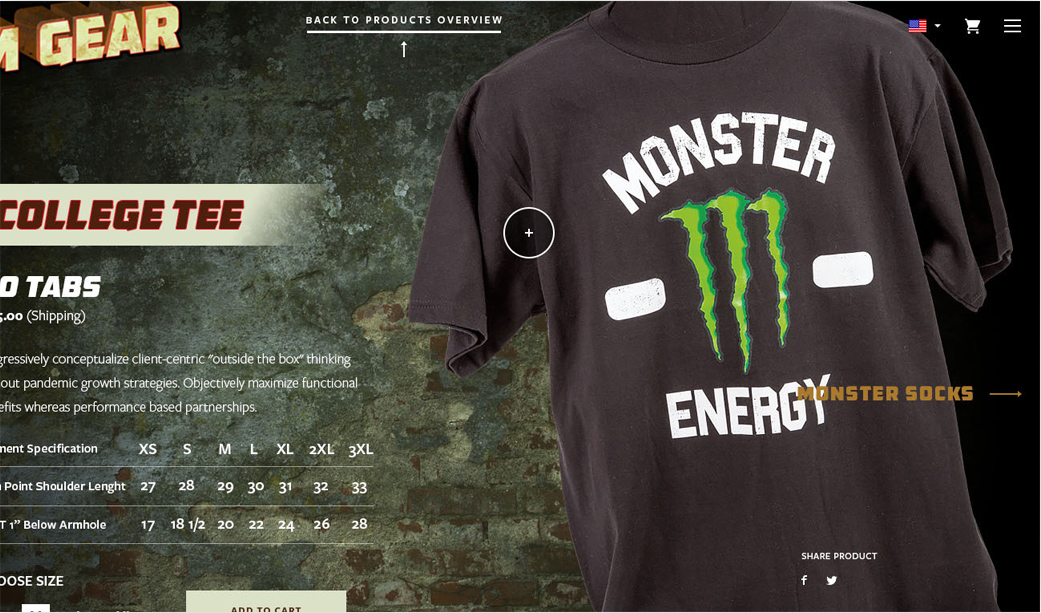 Highly Visual Product Display
Resisting the temptation to show products on a flat plane, we were tasked with making the products come to life. Good product photography helps.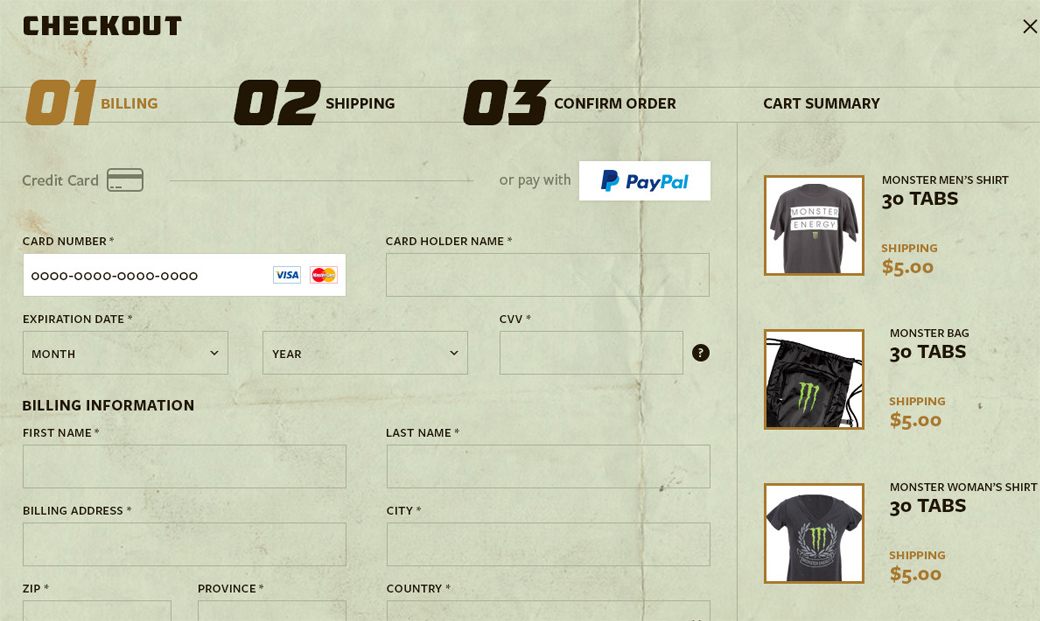 Custom Built eCommerce System
Few things are more boring than a checkout page. We turned that notion upside down by spicing up the checkout page with better visuals.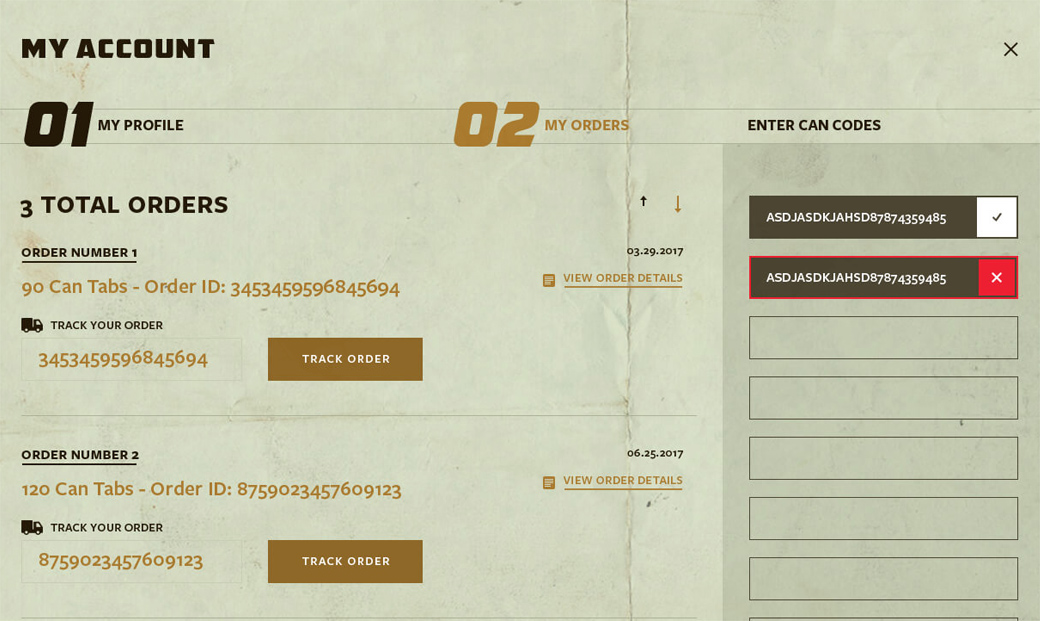 User Accounts With Order & Credit Management
By directing users to create an account, all aspects of tracking and redeeming credits are handled inside one interface, making redemption simple and error-free.
07
Project Outcome
The promotional sites we've built for Monster have always exceeded the client's expectations at all levels. It's no wonder Monster Energy continues to run the promotions and why Monster Energy continues to rely upon EKKO Media to bring it all together.
35
Days to design & build