Superwinch Website
With Ekko Media's vast expertise, we created an interactive website for SuperWinch with the latest tools necessary to compete in this space.
client

Service

Technology

HTML + SASS
Javascript
Laravel
Custom eCommerce
CDN Integration

Awards & Recognition
01
Project Background
Superwinch is a Southern California company that has been a global market leader and manufacturer of electric and hydraulic winches and accessories for over 45 years. Under the Westin Automotive umbrella, the Superwinch brand is synonymous with quality, durability and innovation and has a loyal following among off-road enthusiasts, agricultural, military and industrial users alike.
The landscape of the aftermarket automotive industry has changed. Gone is the old three-step distribution network, and has evolved into a B2C e-commerce platform. To adapt to the changing landscape, Superwinch needed a completely new interactive website, one that applied all of the latest tools and structure necessary to compete in this space. EKKO Media's vast expertise would be put to the test to develop something that was user-friendly and guided consumers through their selection and purchase most suited for their application.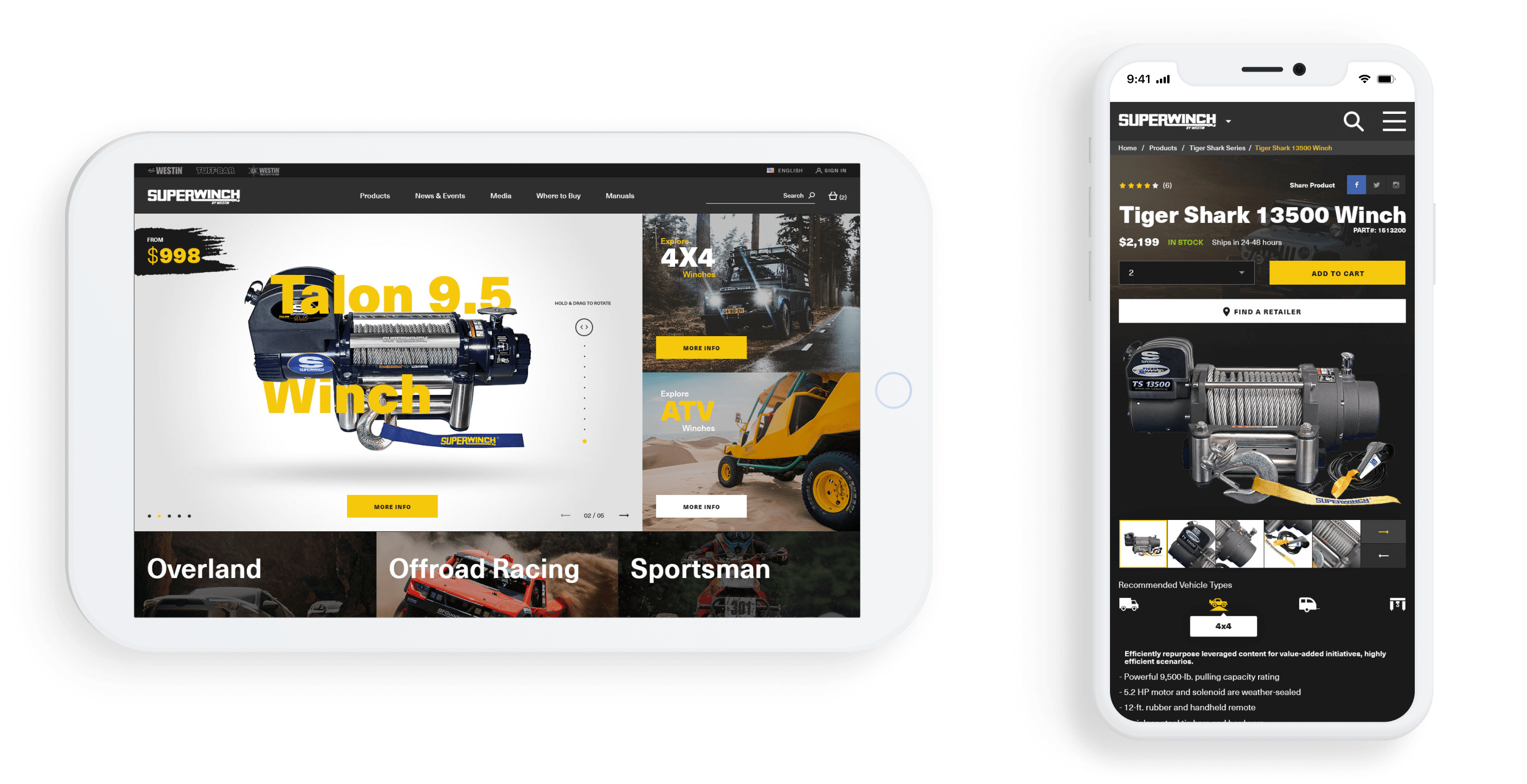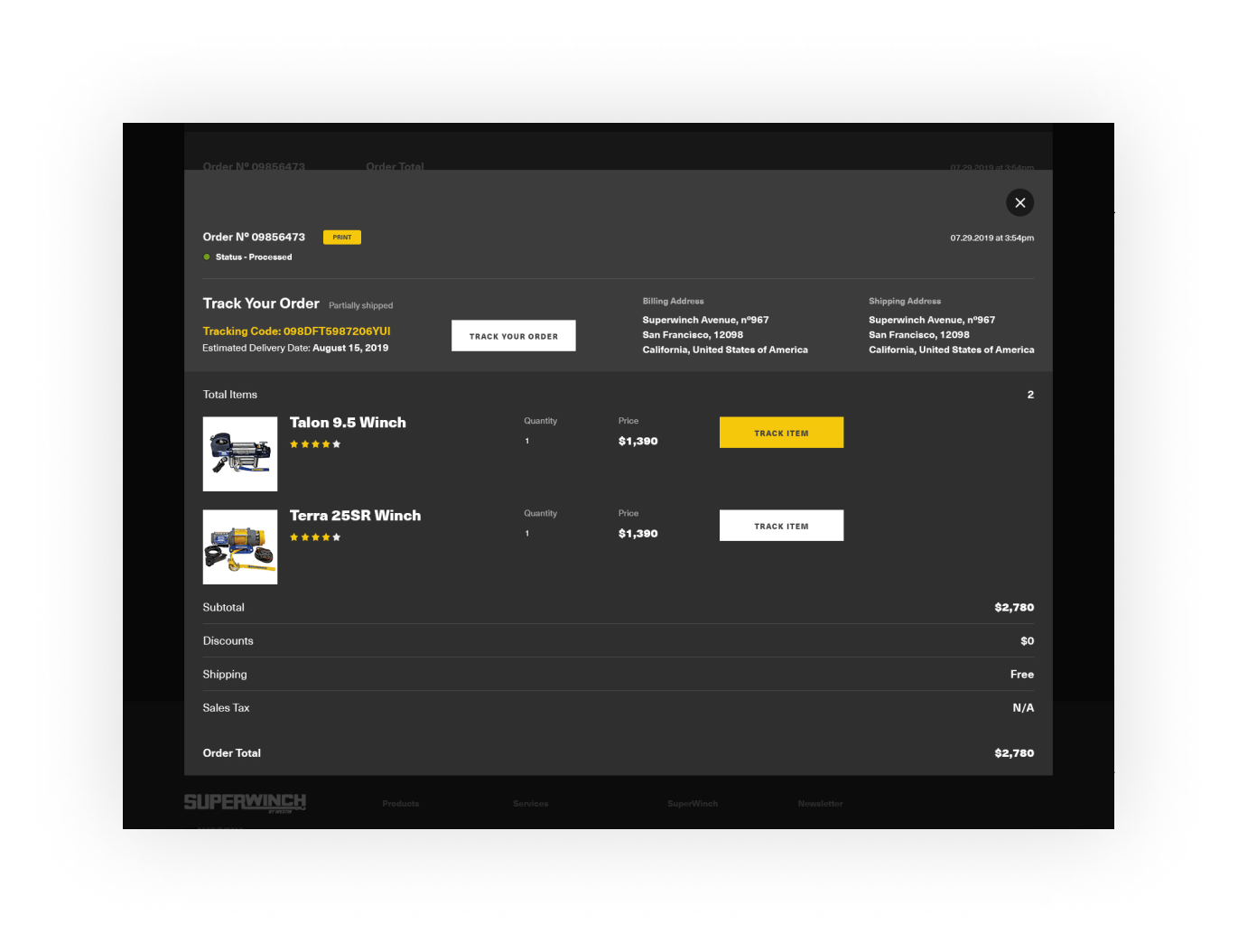 02
Shopping Cart and User Account
On SuperWinch.com check out is seamless. Upon checking consumers are asked for their shipping, billing, and contact information to autogenerate an account for them to keep track of their purchases while generating leads for repeat customers. Credit card processing is handled through the integration of conventional processing methods and shipping rates are auto-calculated during this process. The entire transaction is as smooth as one would expect, ensuring no orders are lost due to complexities.
03
SEMA Data Co-Op
Integration with SEMA's data co-op program ensures that all product data is configured and stored in the accepted industry ACES and PIES standards. To accomplish this requires a complex integration between the Superwinch website and the data repository.
This is one area in which EKKO Media holds a clear advantage over competing companies. We've been doing this almost since the inception of SEMA's database integration initiative.
04
Interactive Website Design
The importance of making a responsive (adaptive) to any sized screen cannot be overstated. On any given day, more than 85% of users are interacting with websites on a mobile device. Configuring a website to work across multiple devices using a myriad of operating systems and browsers requires consideration at the very outset of the planning process. All content must scale automatically and must still provide a good user experience.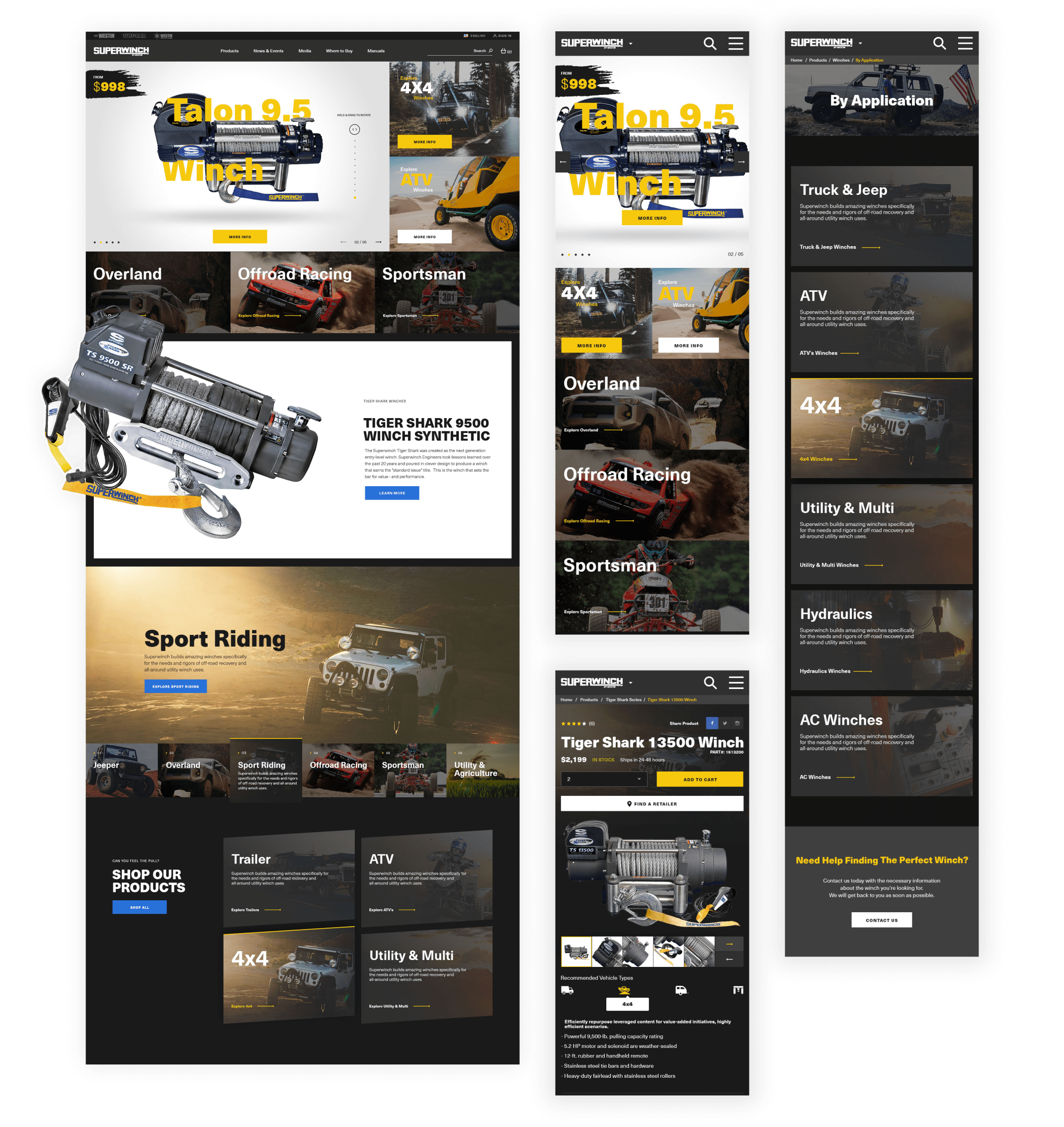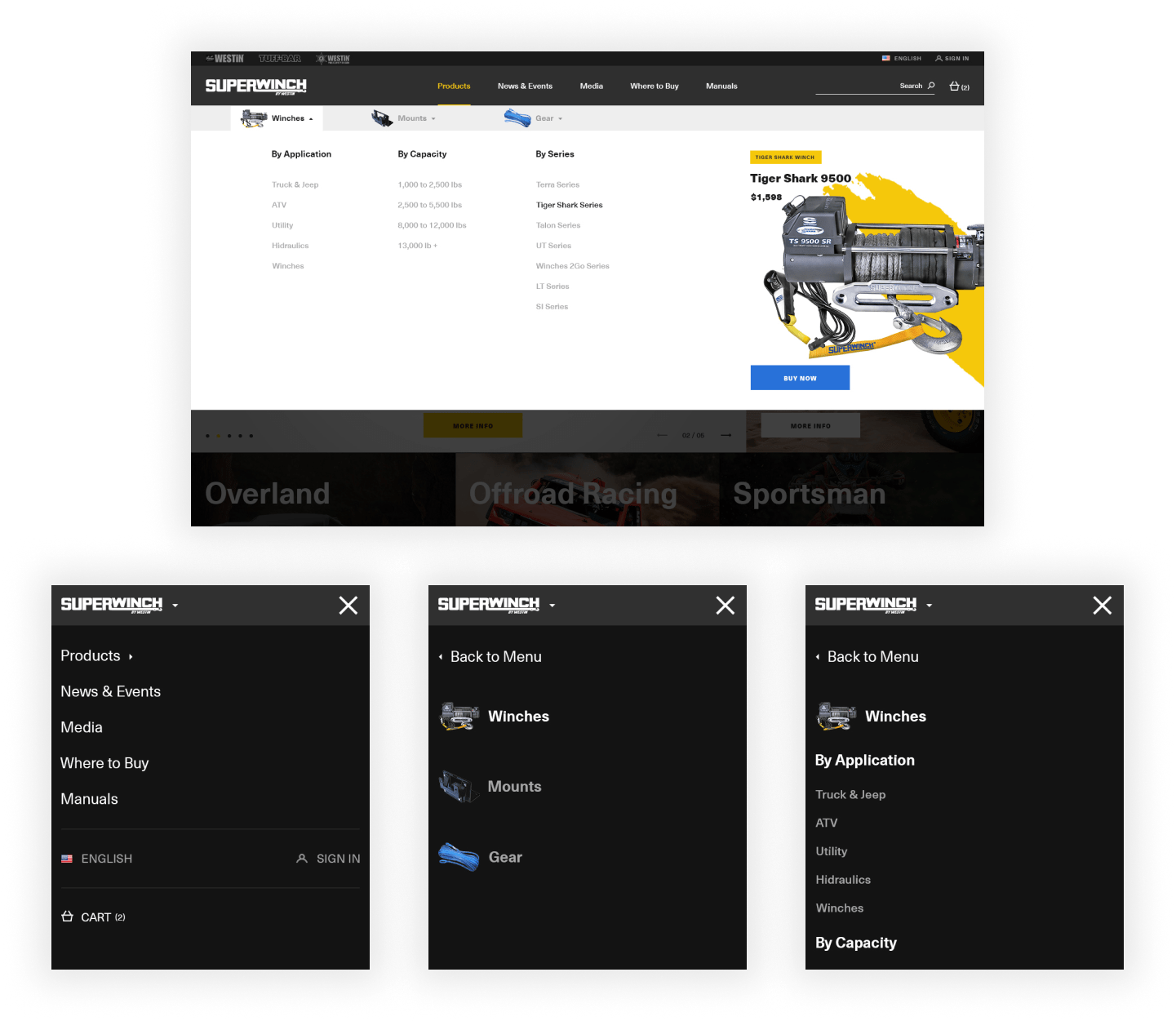 05
Core Functionality and Features
Superwinch's new interactive website catapults the brand into the modern age by using a slick, new user interface that is easy to navigate and promotes a rapid purchase decision. The information is presented using a combination of imagery and data enhanced by clear features and benefits dialogue.
Dealers or Consumers can quickly facilitate a transaction, apply coupons or discounts where applicable and track their orders. The company's proud history is prominently displayed throughout the site, helping to promote confidence among dealers and end-users.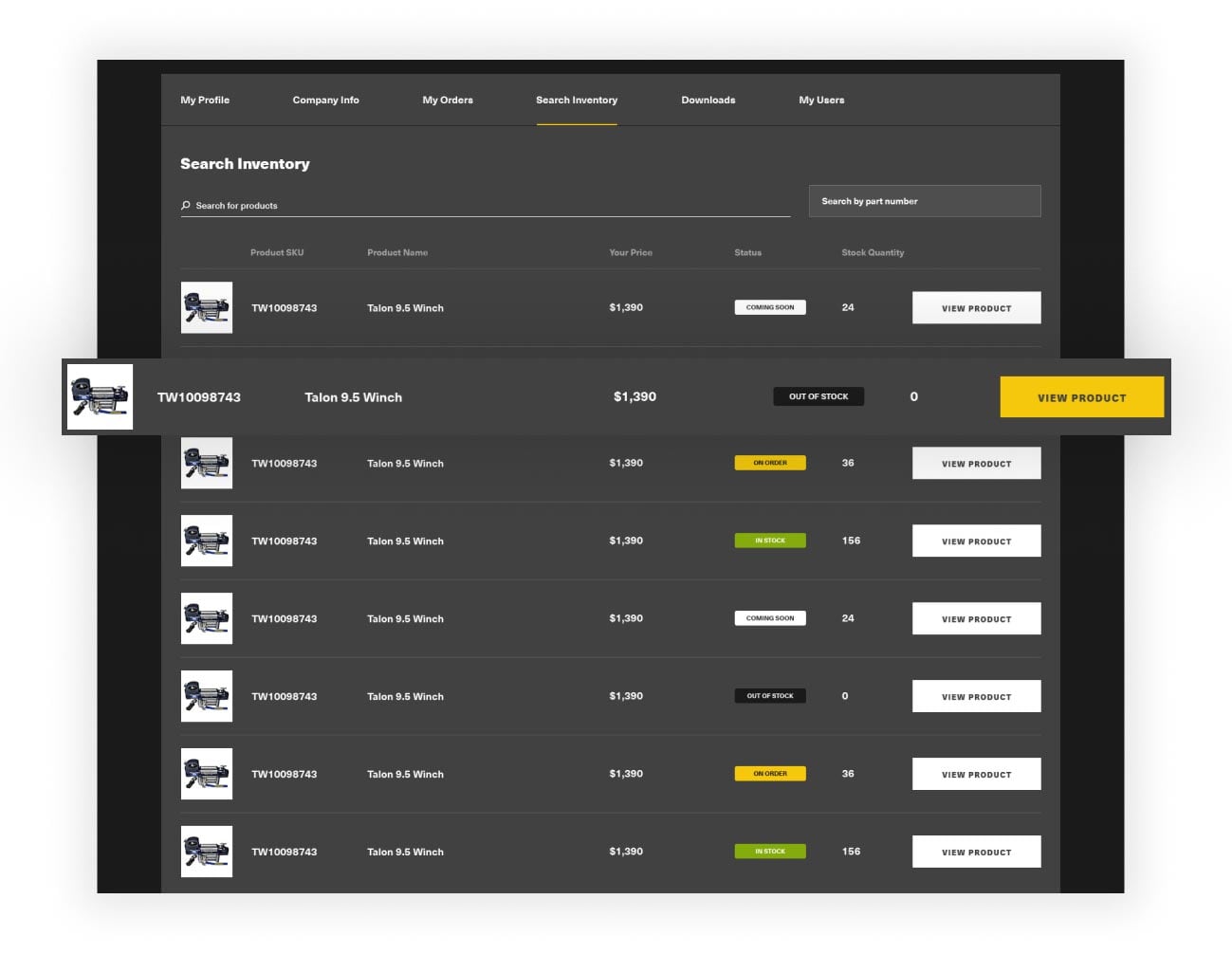 Dealer Access
End-users can simply search by their zip code to find the dealers local to them. Dealers benefit from this direct referral in obvious ways. To assist their dealers, Superwinch required a tiered pricing system that was tied to the dealer's online account. Dealers at different levels (based on their annual purchases) are shown pricing exclusive to them. This is done automatically within the website.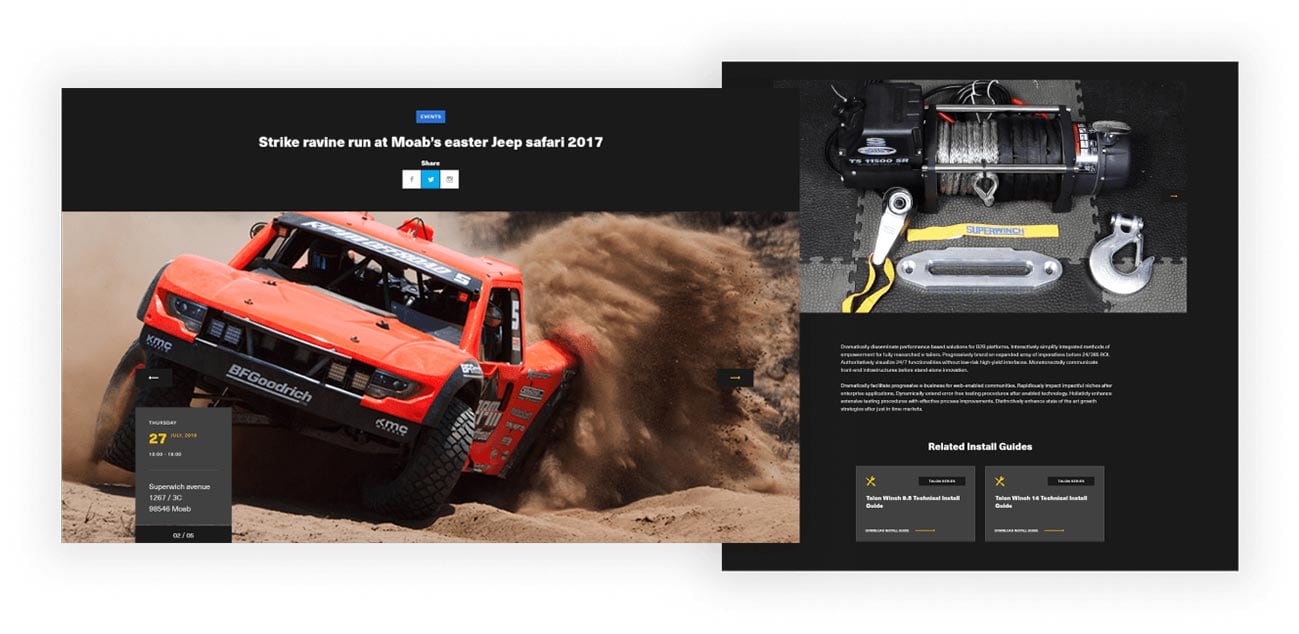 Media and Downloads
Like many companies, Superwinch recognizes the value of staying connected with their users. A robust media gallery includes photos, videos and even Press Kits for media inquiries. The News and Events section helps Superwinch to provide fresh content to site visitors.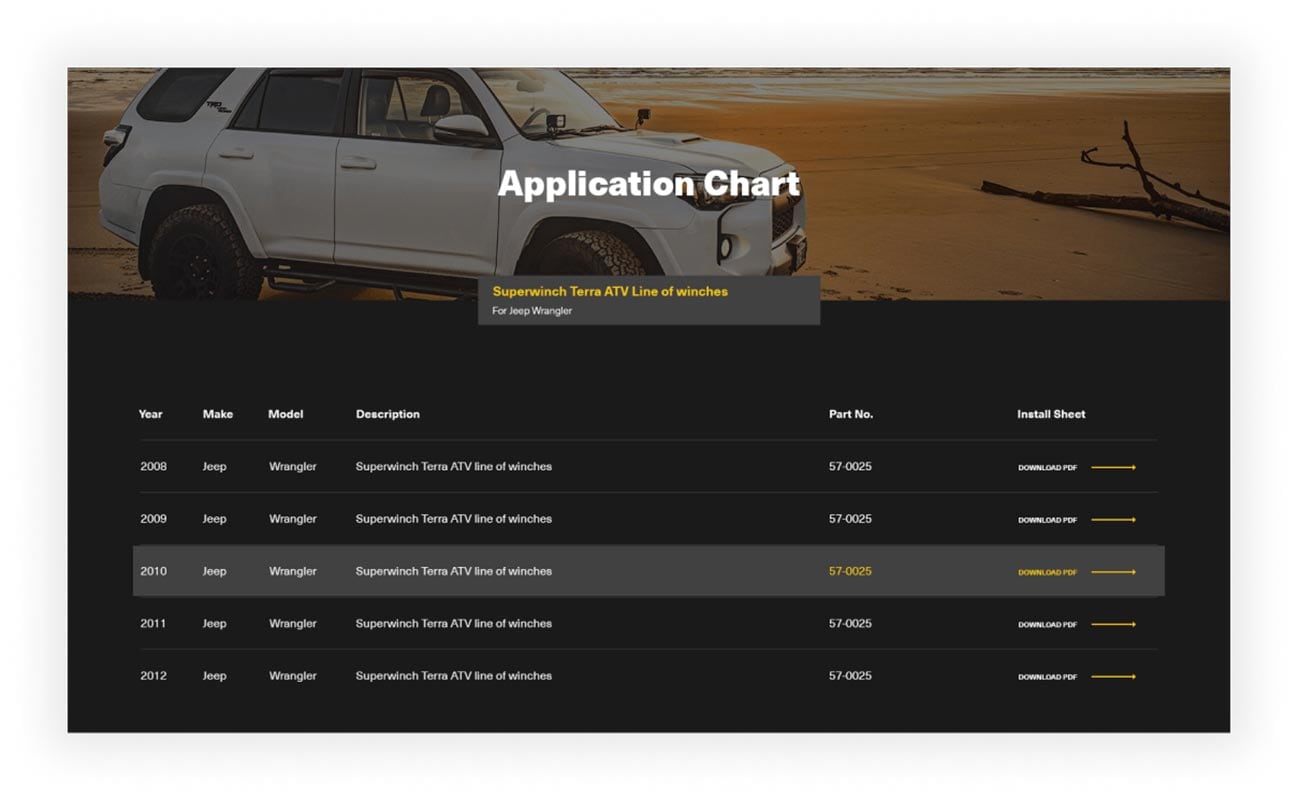 Application and Product Lookup
When it comes to the unique environment online of the aftermarket automotive industry consumers value performance and smooth mechanics that allow consumers to find what they need fast and conveniently. Which is why EKKO Media has outfitted SuperWinch's website with a state of the art fitment application guide. Allowing potential customers to get the results they need by finding products that fits their vehicle. No need to check old fashion fitment guides.
06
Project Outcome
Not surprisingly, the website has received numerous awards for design, user experience (UX) and user interface (UI). The awards are nice, but the real reward has been the growing popularity and reputation of the brand.