Cornerstone Evolve
Cornerstone, a live event management company, called upon EKKO Media to create an online live broadcasting and video hosting platform to host and manage online events called Cornerstone Evolve.
client

Service

Interactive Websites
Web Design
Web Development

Technology

HTML + SASS
Javascript
Laravel
Custom CMS
eCommerce

Awards & Recognition

CSS Design Awards
CSS Winner
CSS Light
01
Project Background
Cornerstone is a live event management company for more than 25 years. By achieving their client's needs with flawless execution and creative vision, they are the leaders in the event management industry. However due to the COVID-19 Pandemic in 2020, to meet their clients' expectations, Cornerstone's strategy pivoted toward bringing their events on the global stage by hosting high-value productions online. To do this, they needed a platform to host, create, and manage events online. EKKO Media answered that call.
EKKO Media created the Cornerstone Evolve platform, an online live broadcasting and video hosting platform that allows Cornerstone to host and manage online events for a myriad of clients. The platform called for intuitive navigation and ease of connectivity among event attendees and event speakers/talent. The Cornerstone Evolve platform allows administrators to quickly design interactive events, build and gather analytic reports, host limitless live streams with no coding required.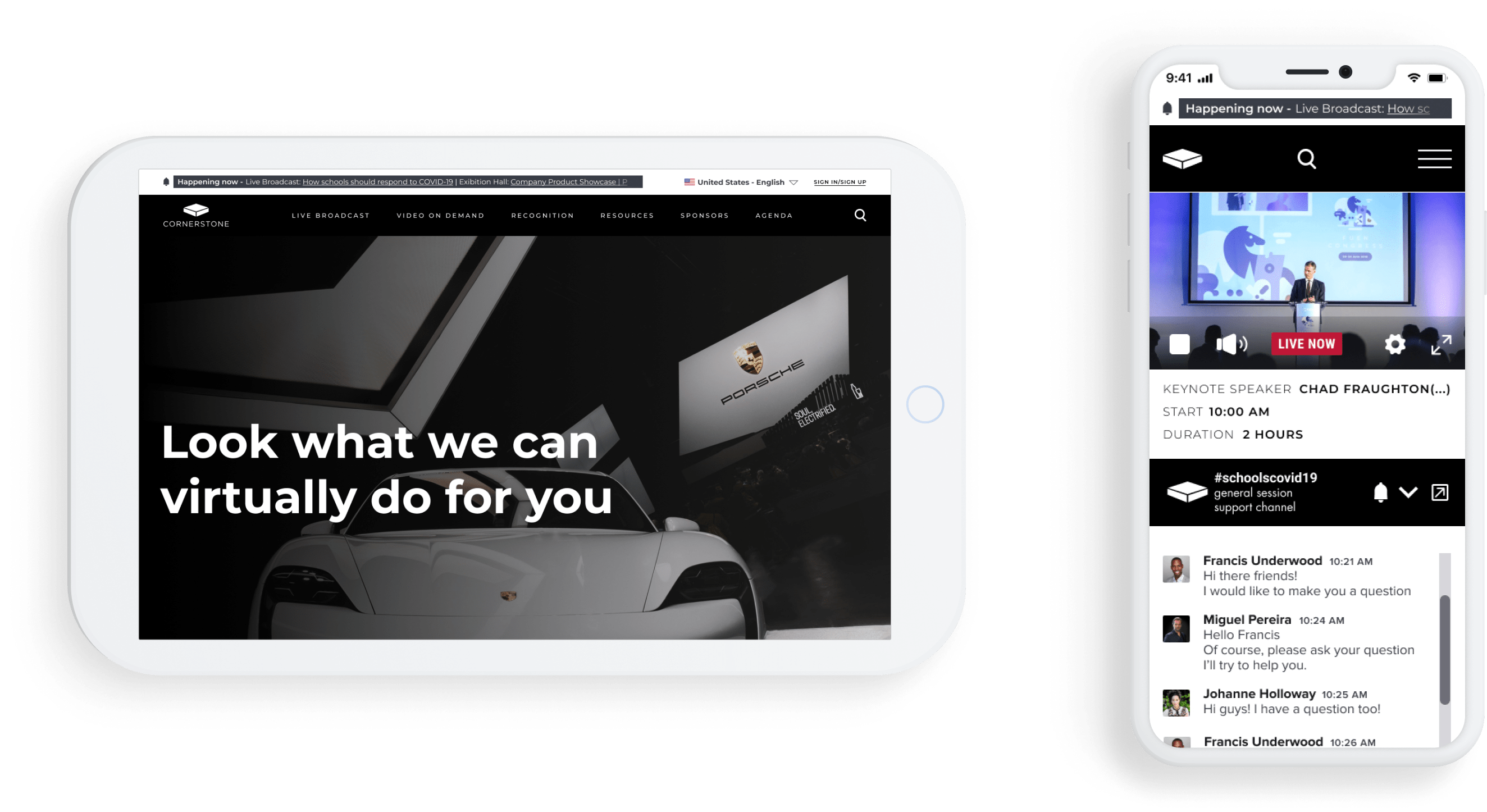 02
About Cornerstone
For the last 26 years, Cornerstone has made a name for itself planning, designing, and executing high production events. Their past projects include the Porsche 911 Launch Party, hosting the Silicon Slopes Tech Summit, and the Young Living International Grand Convention, one of the world's largest conventions.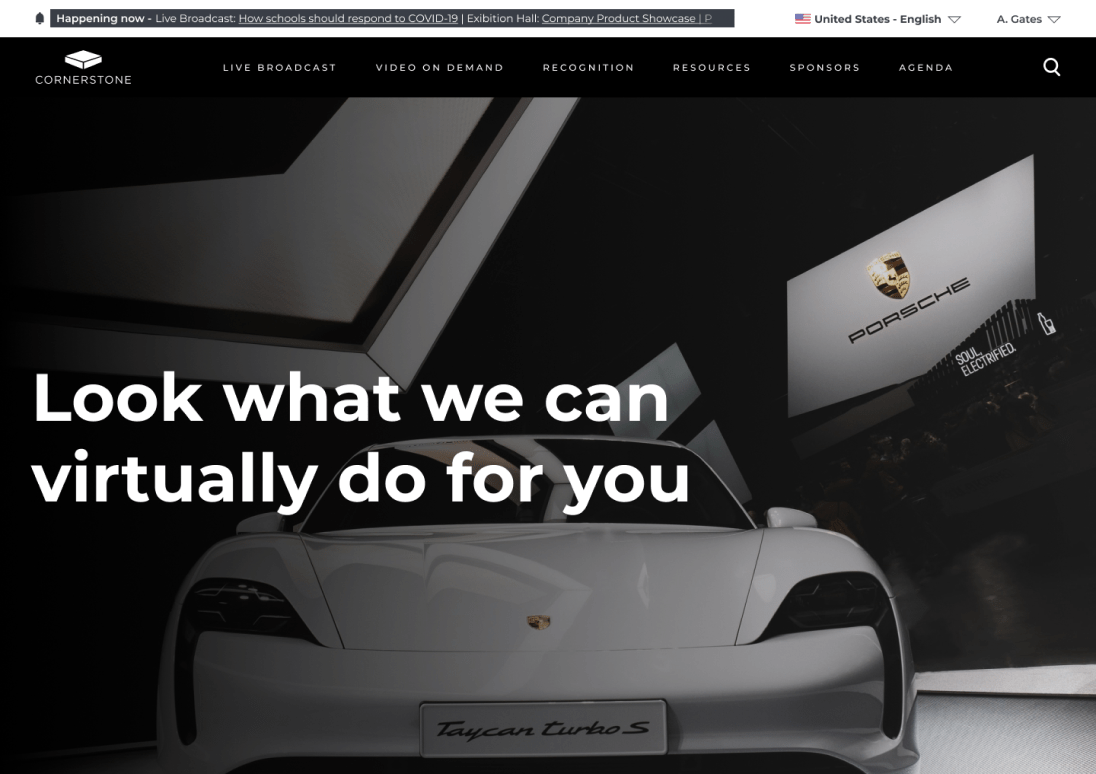 The goal was to create an organized and powerful design tool in order to streamline the development and feel of online hosted events. The Evolve platform would have to be able to acclimate to Cornerstone's client's expectations of delivering high energy and interactive events in an online space as well as present an easy course of action for collecting attendee feedback and gaining an important analytical perspective.
04
Analytic Integration
The Analytic Integration section is a digital information hub for all of the digital traffic generated during a Cornerstone-hosted virtual event. It is a holistic view of the effectiveness of the hosted virtual event with information and insight regarding Audience, Acquisition, Behavior, Events, Users, and Tools.
Downloadable predetermined reports/report generation with a date range. The analytics gathered can be used internally or for marketing purposes post online events.
05
Video on Demand
With so much to see and to do at Cornerstone's Expo Partner Hall, it's hard to keep up. If users missed something they were expecting to attend, videos will be available to view starting from the Event's first day or they may download slides from each session if the speaker has allowed us to share them. Videos on Demand not only retains recordings of previous sessions but also allows for the storage of pre-recorded content such as interviews and behind-the-scenes moments.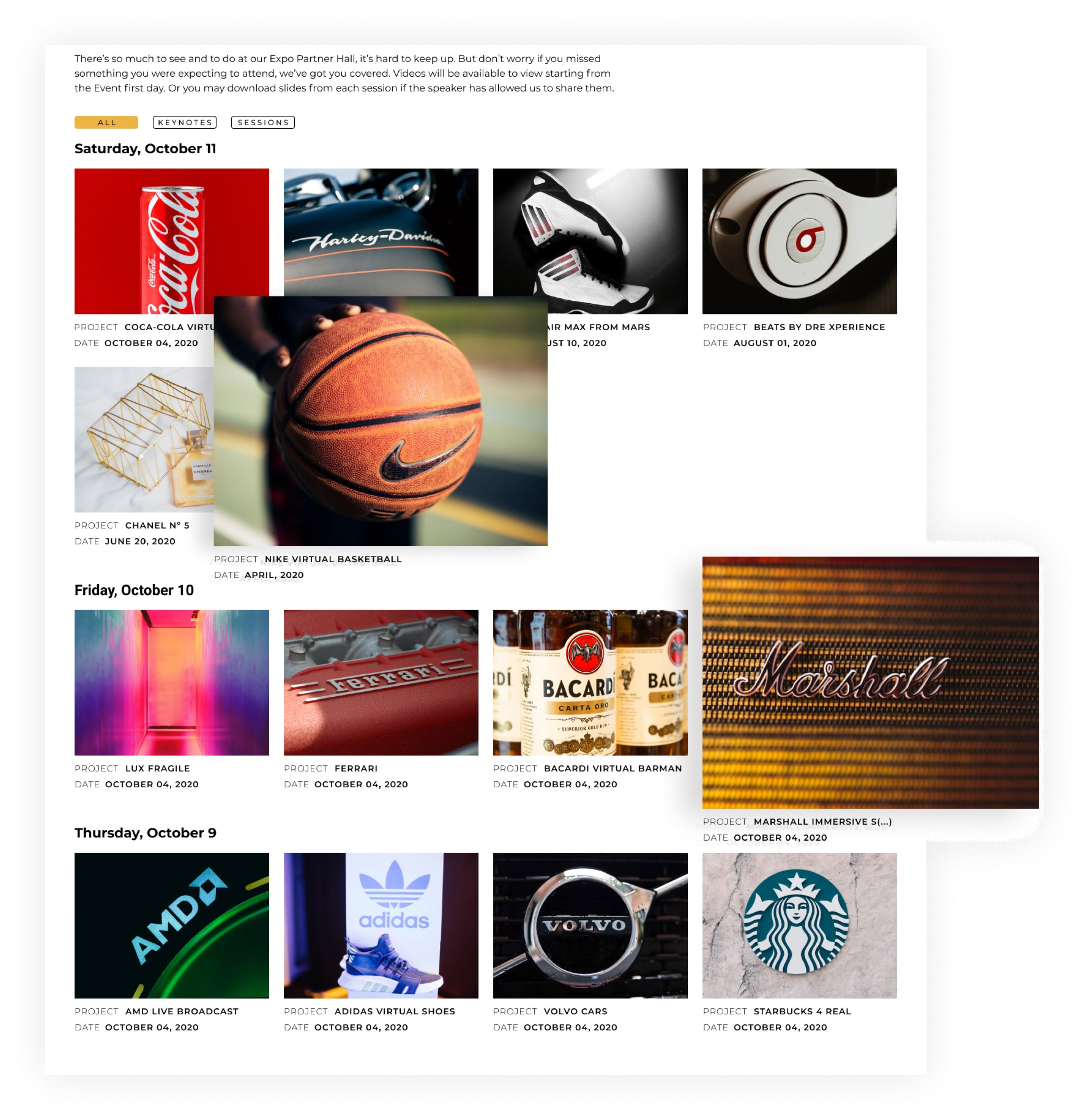 06
E-Commerce
Adding e-commerce capabilities is a virtual must these days. Despite having distribution networks, most companies continue to facilitate retail transactions through the Evolve Platform. The platform guides users through their purchasing journey, first by allowing them to quickly select their product categories, then by funneling them to product offerings. Technical specifications are presented in an "optional" format, one in which users could select how much or how little information to display. Cornerstone relied on EKKO to not only integrate standard e-commerce capabilities but with the 3D Panorama Experience, 3D E-commerce integration is achievable. MAYBE ADD MORE?

Purchases are handled through a payment gateway integration with backend reporting tools managed through a custom dashboard.
07
Quick and Easy Design
The Evolve platform is a game-changer for administrators to quickly and seamlessly redesign each experience to fit the client's needs while running multiple events all at once.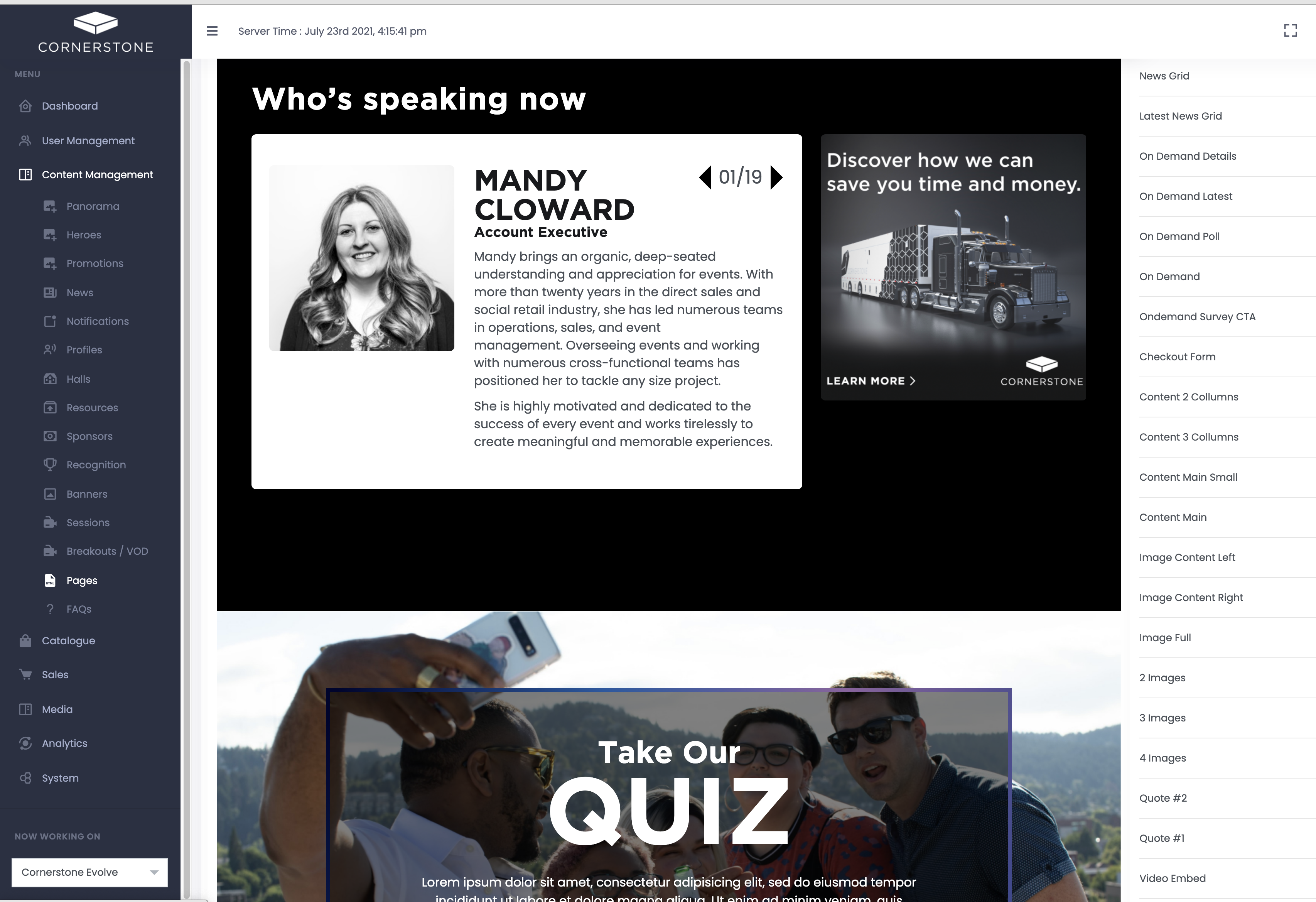 Page Builder
With the Evolve Page Builder, admins are able to build custom pages for their events on the fly and with no coding required. Now anyone can build professional pages with none of the development costs. The simplistic yet elegant drag and drop system allows for complex and interactive pages such as eCommerce product pages, custom live stream pages, breakout rooms, and 3D Panorama experiences with a couple of clicks.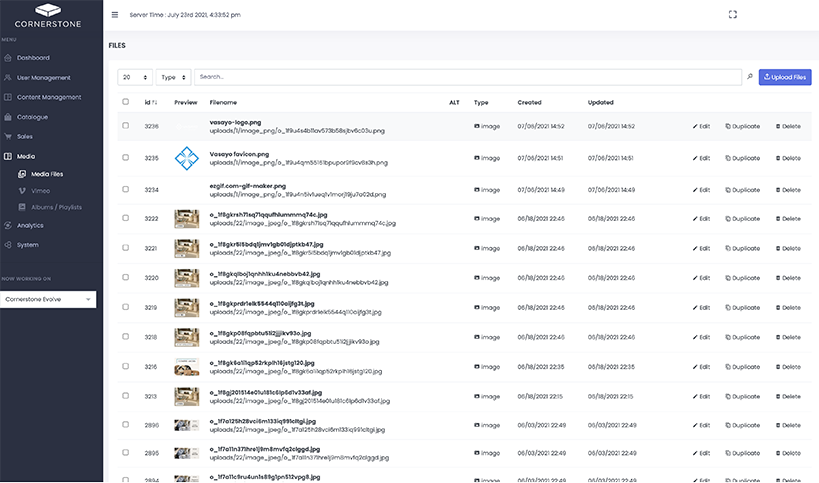 Web Assets
All your web assets are sorted and stored in an easy and manageable way. Adding corporate promotional videos, banners, 3D panorama files, and products to the repository allows them to be effortlessly integrated.
3D Panorama Experience
Knowing Cornerstone's reputation for creating spectacular and interactive events, EKKO Media decided to integrate the 3D Panorama Experience to bring an additional immersive experience to the Evolve site capabilities.
08
Streaming Without Limits!
With the Evolve platform, live broadcasting of Cornerstone's client's virtual event is the largest and most significant hurdle in the production of a successful virtual event. The Evolve platform's Live Broadcasting is implemented through different service providers like Vimeo, YouTube, or custom integration utilizing AWS services (not sure if this is phrased correctly). It can support an infinite amount of attendees all at the same time.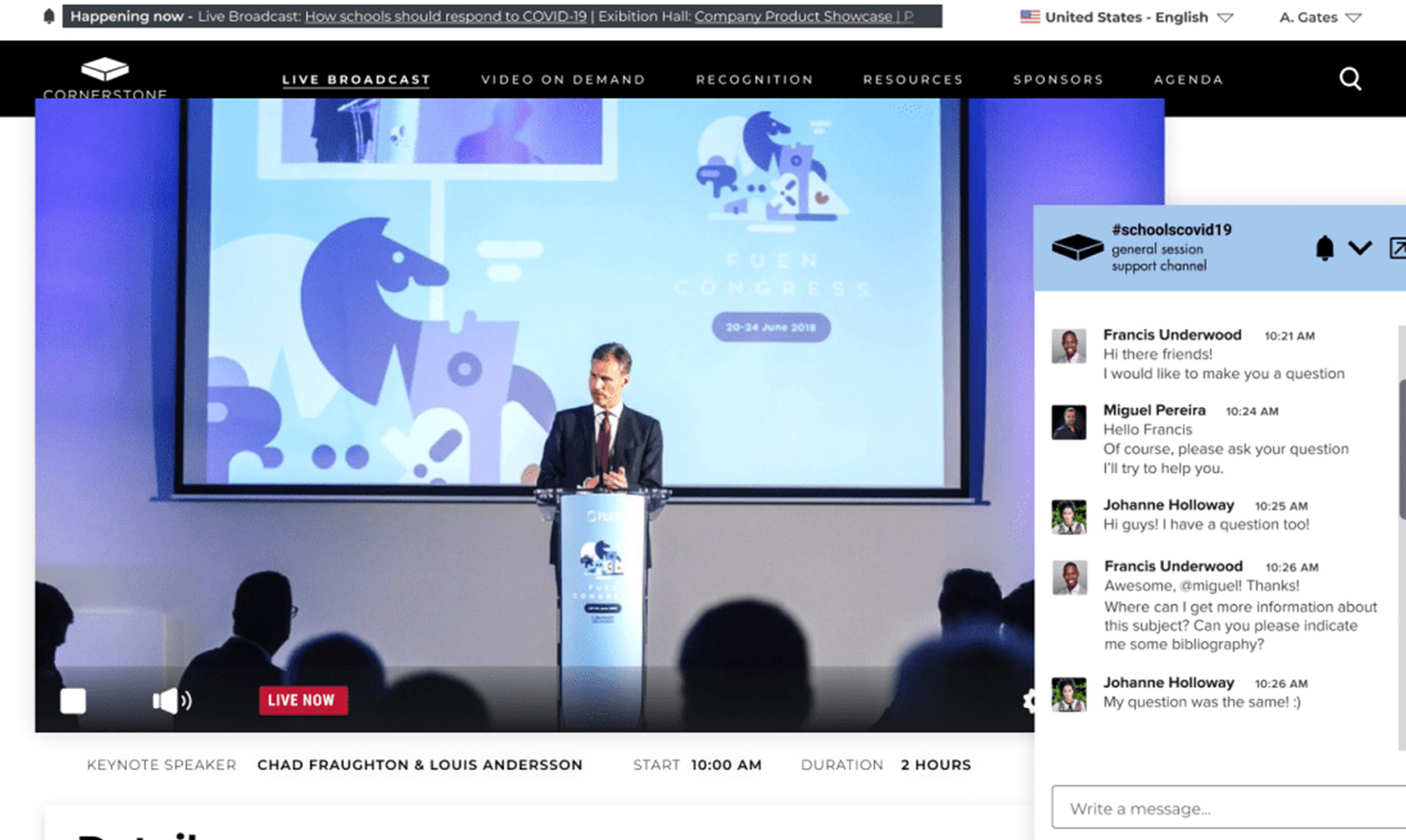 Live Chat
Attendees are able to chat with the speakers and moderators simultaneously during the live virtual events. Evolve can use any third-party Live Chat integration to elevate the crowd experience and build a more intimate rapport between attendees and talent/speakers.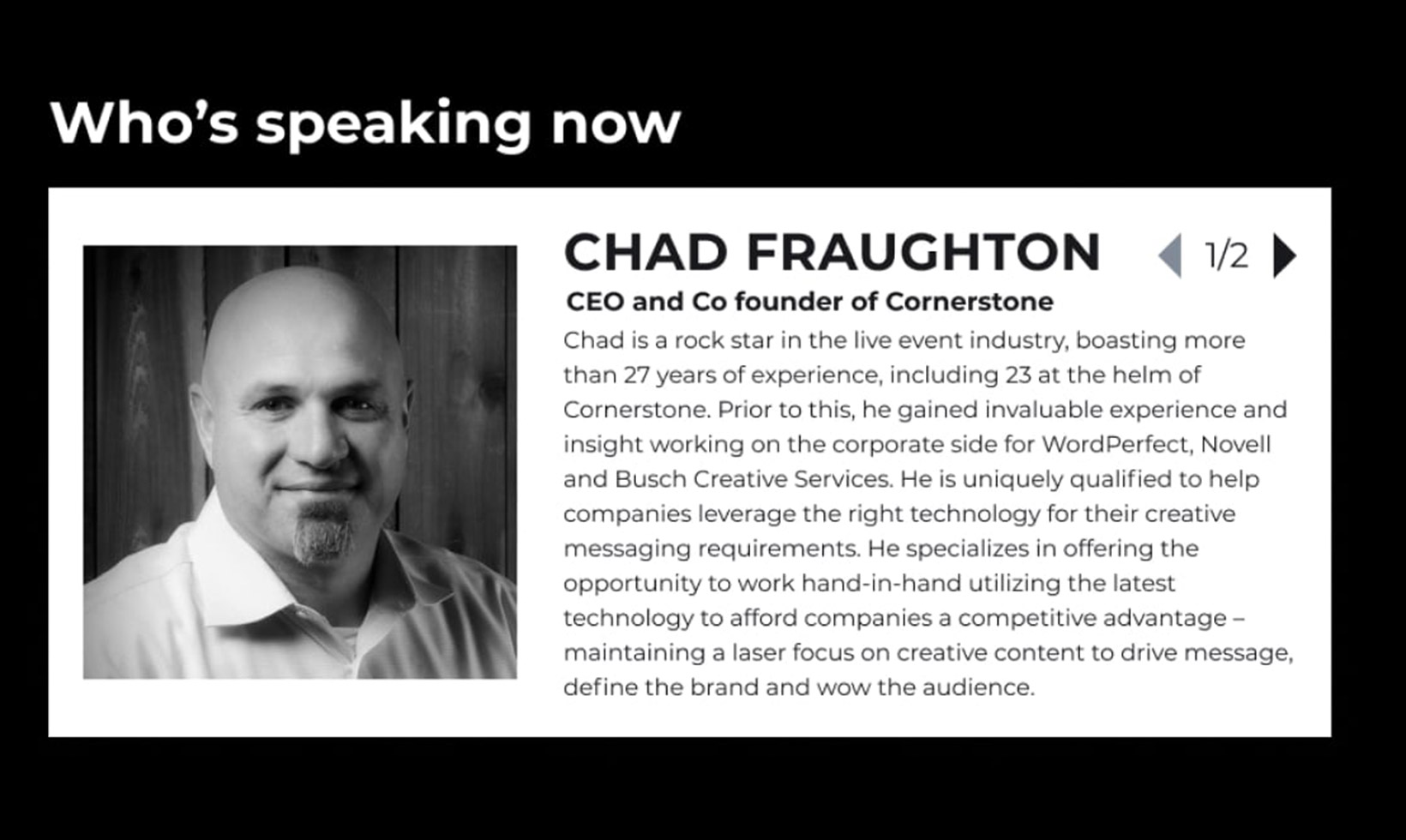 Talent/Speaker Information
As virtual events progress, the speaker's professional biography is made readily available to attendees and moderators.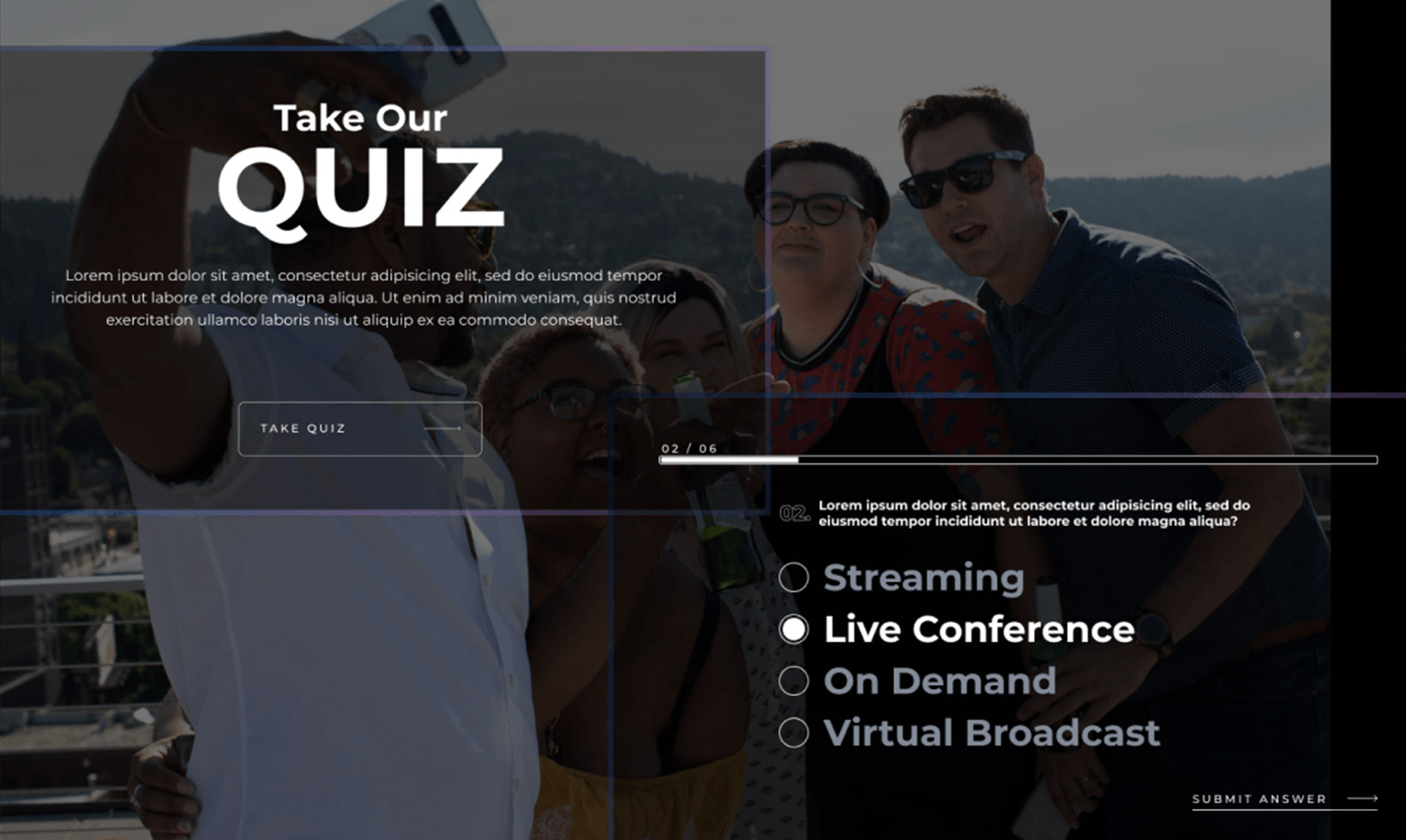 Interactive Quizzes
Create interactive quizzes to gauge attendees' engagement, test their knowledge and vital topics, and as a resource tool to collect valuable data on what attendees want to see next year.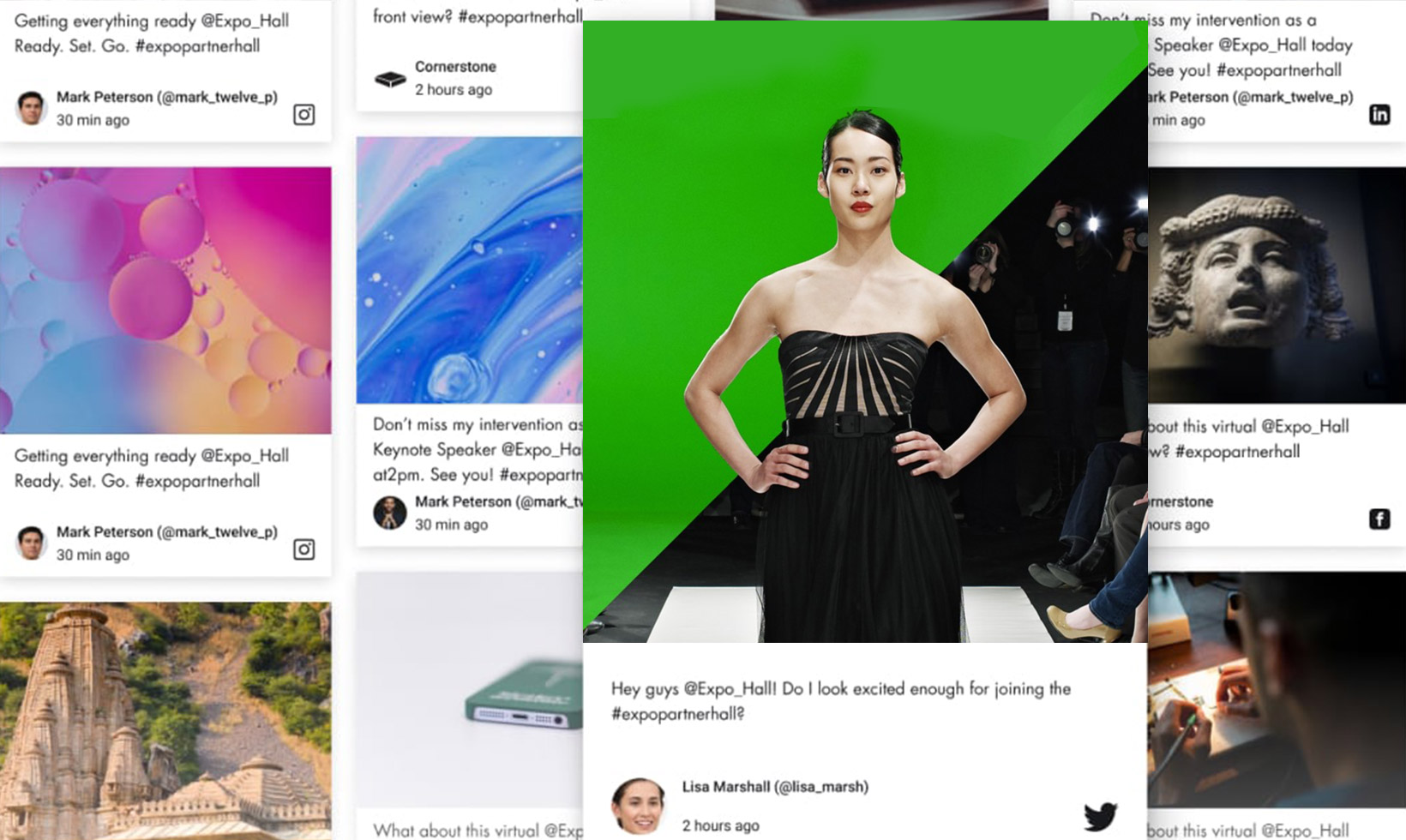 Social Media Integration
With the Evolve platform, users are encouraged to engage with the site along with Cornerstone's client's social media through Social Media Integration. It increases brand reach and engagement to ultimately help build a bigger audience. The Evolve platform and social media integration work together seamlessly to help promote brand interaction while boosting traffic to social media accounts.
09
Project Outcome
Not surprisingly, the website has received numerous awards for design, user experience (UX) and user interface (UI). The awards are nice, but the real reward has been the growing popularity and reputation of the brand.