Monster Energy University

Monster Energy Drink is a long-standing EKKO Media client. Over the past decade, we've built many websites for their various brand initiatives, the latest being an all new E-Learning website.
client

Service

Interactive Websites
Learning Resource Server (LRS)
Content Mangagement System (CMS)

Technology

HTML + SASS
Javascript
Gulp
Adobe Captivate

Awards & Recognition

CSS Design Awards
CSS Winner
CSS Light
01
Class is In Session
Monster Energy Drink
 is a long-standing EKKO Media client. Over the past decade, we've built many websites for their various brand initiatives, the latest being an all-new E-Learning website.
The basic premise was to create a platform that could host, manage, and administrate all aspects of internal training and dealer training in one centralized location. The platform needed to be robust, engaging, visually appealing and consistent with the company's branding. It also needed to be responsive for viewing on mobile devices and it needed to have a multi-language support, given the global footprint of the Monster Energy brand.
02
A Learning Management System
As a learning management system, management required a method that would let them post a variety of content from training courses and exams to presentation decks and videos.
To do so, we developed an interactive drag and drop functionality that makes creating and managing content almost foolproof.
03


Custom Course Builder
One of the more robust features is the course building function. This lets administrators the ability to quickly create courses using a resource library, complete with images, exams, and quizzes.
All of the assets are located on a new Learning Resource Server (LRS).
e-Learning course assignments can be segmented by division, job title or region, letting the brand to ensure that all of its personnel are up to speed at all times.
04
Live Instructor Support and Field Training
Dovetailing into the custom course builder is the live instructor support. This essentially provides a real-time link to field personnel that will facilitate in-field training.
This saves the Company money by allowing training to be conducted remotely and frees up resources for other initiatives. It also allows the company to roll out new initiatives globally within days rather than within weeks or even months.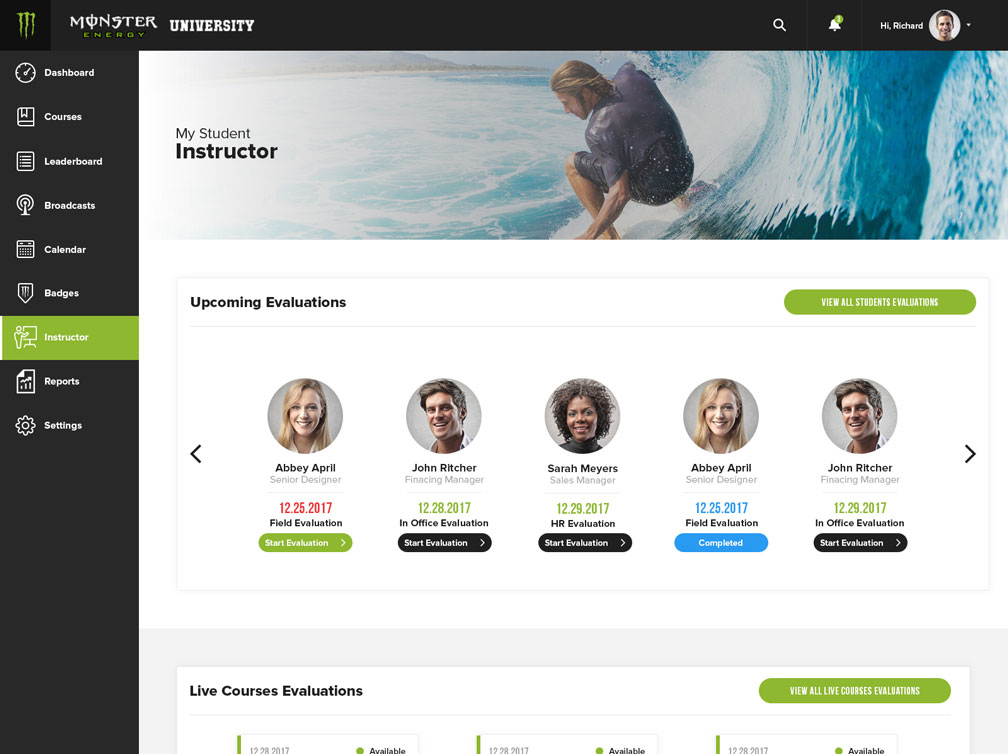 05
Core Functionality & Features
The Monster Energy University website requires a robust system design that can not only allows users to learn, test, and score points but do this on a global platform. Users need to remain engaged for the project to be a success. The core features below help do just that. From badge and point awards, diverse components that keep users interest as they learn and that extra nudge to keep going with emails and SMS notifications, each user is constantly pushed to keep learning and advancing their knowledge and skills.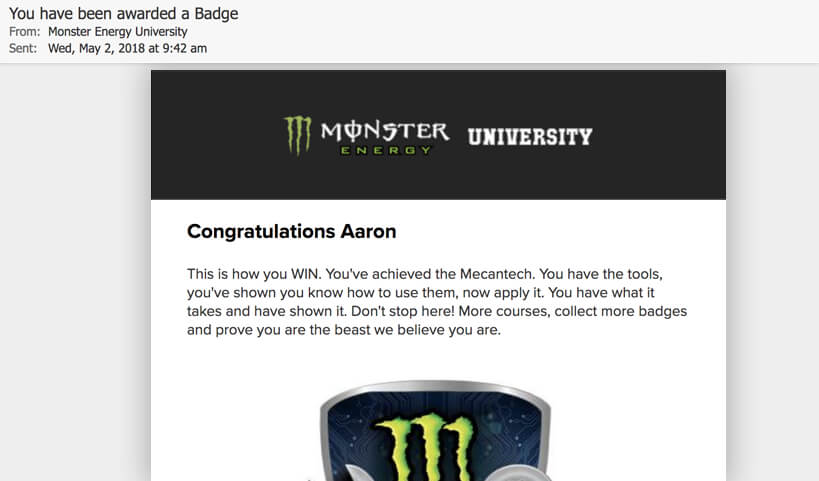 Brand Visuals
Monster Energy's new E-Learning website draws upon imagery and branding applied to their other consumer-facing websites. Maintaining consistency across the brand's visual imagery has always been of paramount concern to this brand. This meant ensuring that both static and dynamic assets were not only brand-right but match the high standards set for both user experience and engagement.
SCORM Compatibility
As an E-Learning website, SCORM compatibility was critical and ensuring compliance required careful consideration to all aspects of administration and functionality.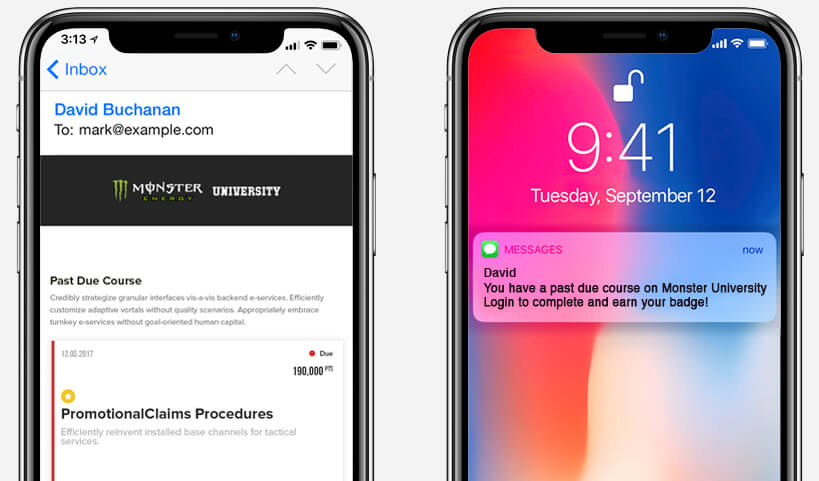 Contact Features
An SMS/Email and a site notification function would be required but with a twist --- it had to be administrated by users, groups or regions. Collectively, this system would be responsible for notifying users of the platform of upcoming exams, provide students access to scores and even integrate an achievement badge system to encourage continued participation.
06
Project Outcome


Despite the many design awards we've procured during our relationship with Monster, each new project is viewed as a challenge to surpass all previous standards. Monster Energy's cooperation in providing stunning imagery and meaningful insights into their customer's needs is the catalyst for this successful relationship. The enthusiastic reception of the E-Learning website by both our client and their teams is the icing on the cake.