Lexani Wheels
Long-time client, Lexani Wheels, tasked Ekko Media with the creation of an interactive website that was representative of the top tier brand.
client

Service

Technology

HTML + SASS
Javascript
Websockets
Ekko DNA
Ekko CMS

Awards & Recognition
01
Project Background
EKKO Media has been the Agency of Record for Lexani Wheels from the start. Having helped the company become a global brand, Lexani's image is constantly evolving. The latest iteration of their interactive website would have to be representative of the brand but push the boundaries to new heights.
Using a combination of full-screen video and stunning imagery, the new interactive website provides attention-grabbing visuals designed to capture the users' interest. Our in-house production team shot and edited the videos focusing on capturing not only the products but conveying the lifestyle elements that are so important to creating demand for the brand.
02
Form is Nothing Without Function
Of course, brilliant visuals alone cannot satisfy users. The site needed to showcase the company's products and be easy to navigate. To accomplish this, we combined product photos with other dynamic elements, each designed to guide users through their quest to find the perfect wheel for them.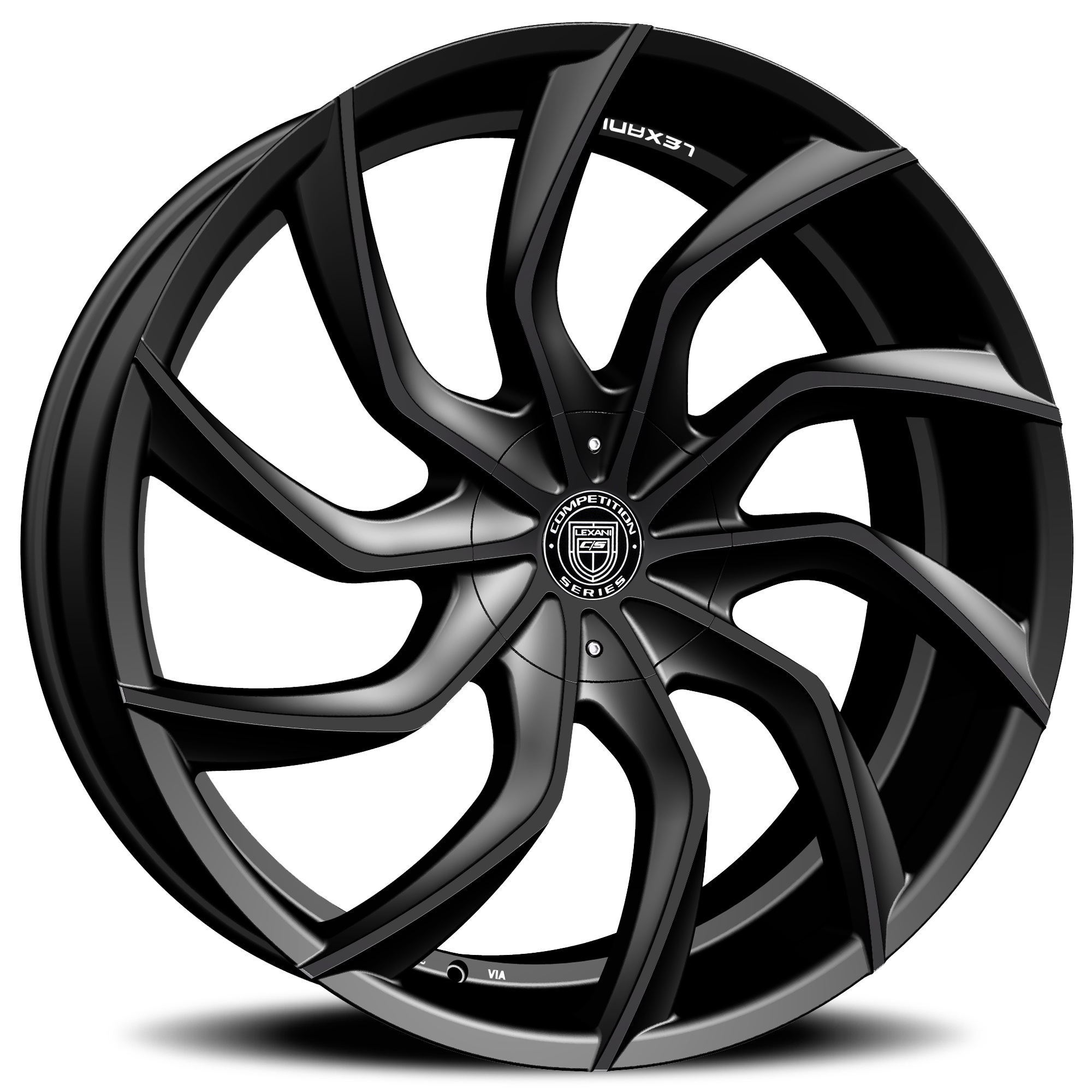 03
Defining The User Experience
Lexani Wheels understands that their customers are most receptive to dynamic visuals. We applied this knowledge to help ensure that users can see the wheels on actual vehicles. Few tactics sell wheels better than when a user can see the wheels they want on the car they own.
04
Platform and Development Frameworks
The CMS we developed allows administrators to intuitively manage every aspect of their interactive website. It allows easy handling of images and media and the ability to add new product and supporting images. Access to the back-end is user-role based to prevent mishaps. The CMS dashboard allows the client to self-manage most of their content, including adding new products or images and posting additional content including video.
An analytics function is built into the admin dashboard to facilitate easier review and adjust their marketing initiatives or on-page content. The goal was to provide greater self-reliance to the client and to ensure that the site fulfills all their needs.
05
Site Design
Making an interactive website easy to navigate on both desktop and mobile devices is no easy task, especially graphics-heavy sites. Using a combination of a minimalist structure and negative space, the site has been designed around the "clean look" while still providing fast load times and a satisfying user experience.
The images are the centerpiece of every page and as such, require impeccable attention to detail. This, of course, includes professional photography of not just the vehicles, but the products as well. Special care is necessary when processing and color-correcting the images to ensure a consistent look across the site and the brand as a whole. Fortunately, EKKO has expert photographers and photo editors on-staff to satisfy even the most discriminating eye. Our commitment to quality and excellence is part of the reason that Lexani Wheels has trusted EKKO Media since their inception.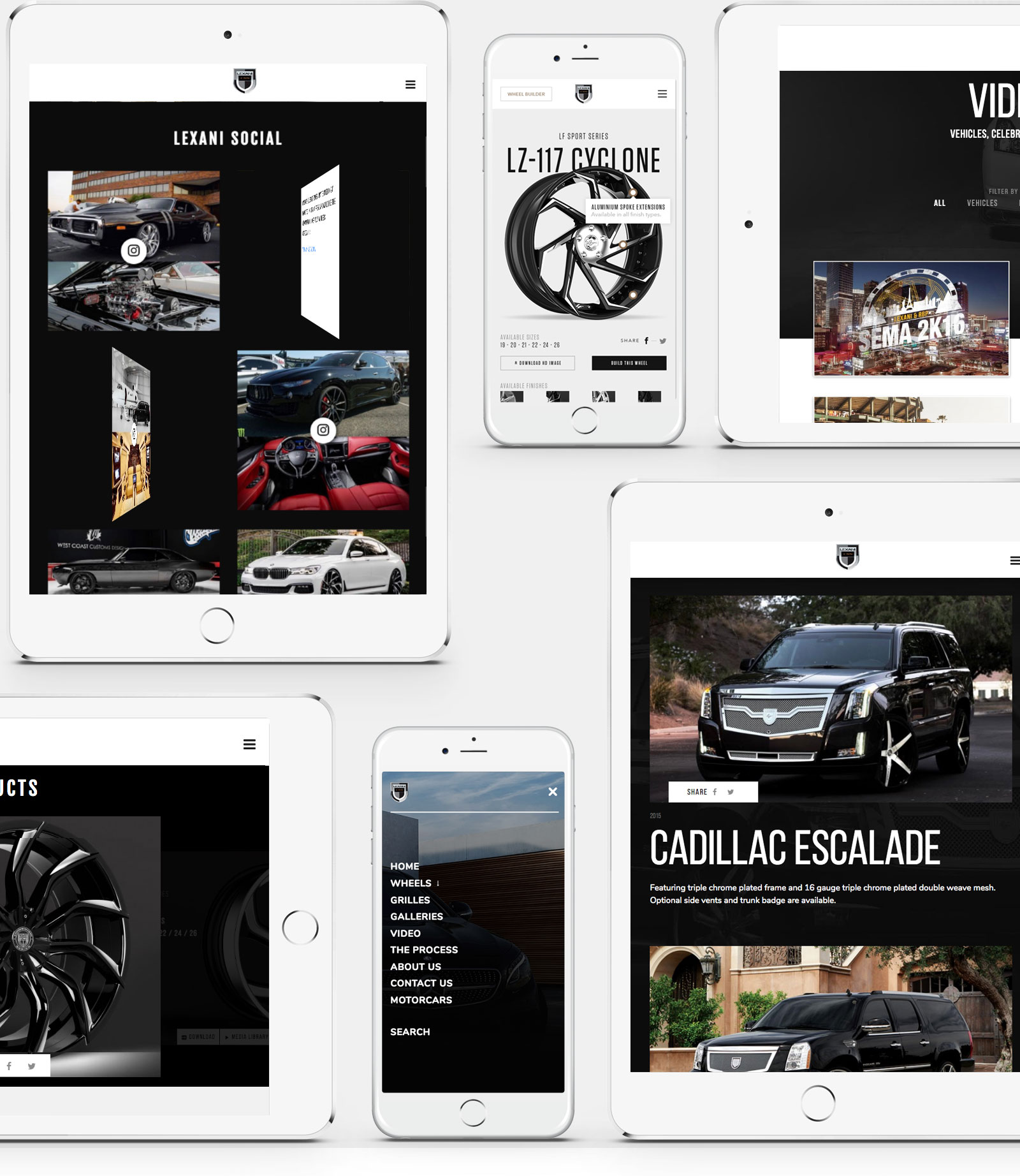 06
From Desktop to Mobile, and Everything In-Between
Of course, the true challenge with any website that relies heavily upon visuals is optimizing it for mobile devices. With so many users viewing web content on such devices, optimizing the visuals requires years of experience to execute properly.
Our team of experts didn't disappoint, retaining the cornerstone visuals while maintaining a satisfying user experience. The UX and UI elements were all carefully tested on a myriad of mobile devices to ensure all elements remained effective at guiding users to their preferred content.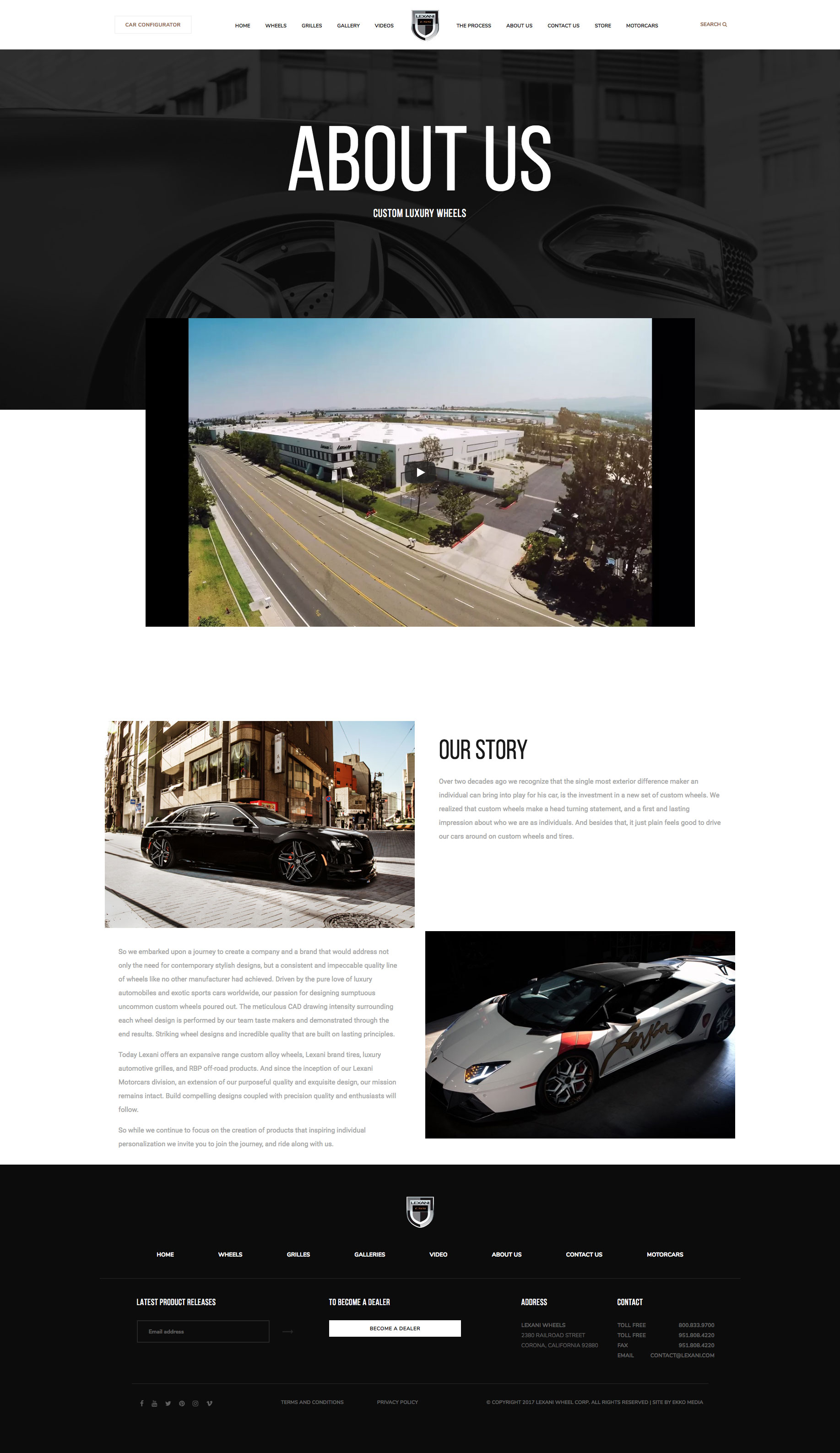 07
Core Functionality and Features
Some of the core elements of this new interactive website include a car configurator, an interactive tool that allows users to showcase Lexani Wheels offerings on a user's vehicle. The site also provides the user with a wealth of information including available finishes and gives them a glimpse into the Company's production and quality control processes.
The cinematic video complements professional photography to help convey the image of luxury and quality for which the brand is known.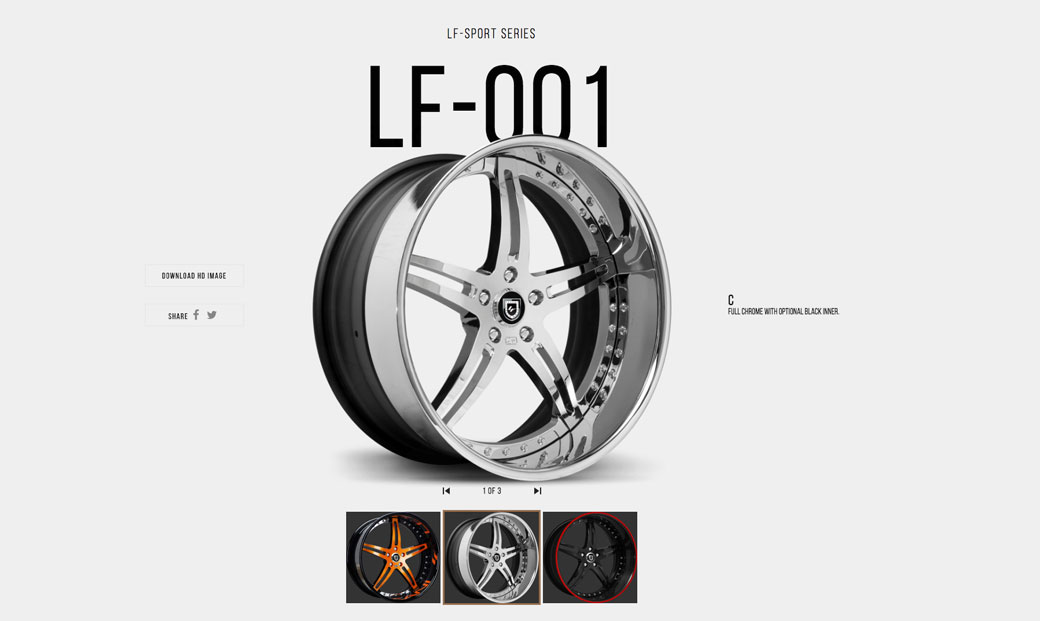 Wheel Selection
The wheel selection tool allows users to view wheels with available finishes. Using high-resolution photography for every product in every finished was essential.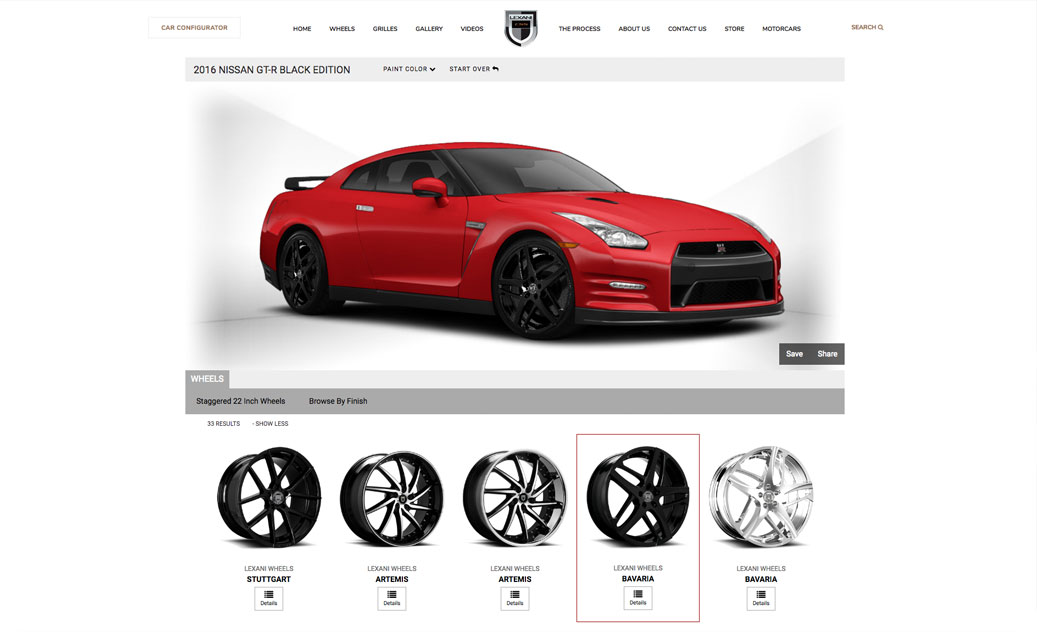 Car Configurator
This interactive tool lets users view their vehicle, select from available wheels and fitments and choose their finish.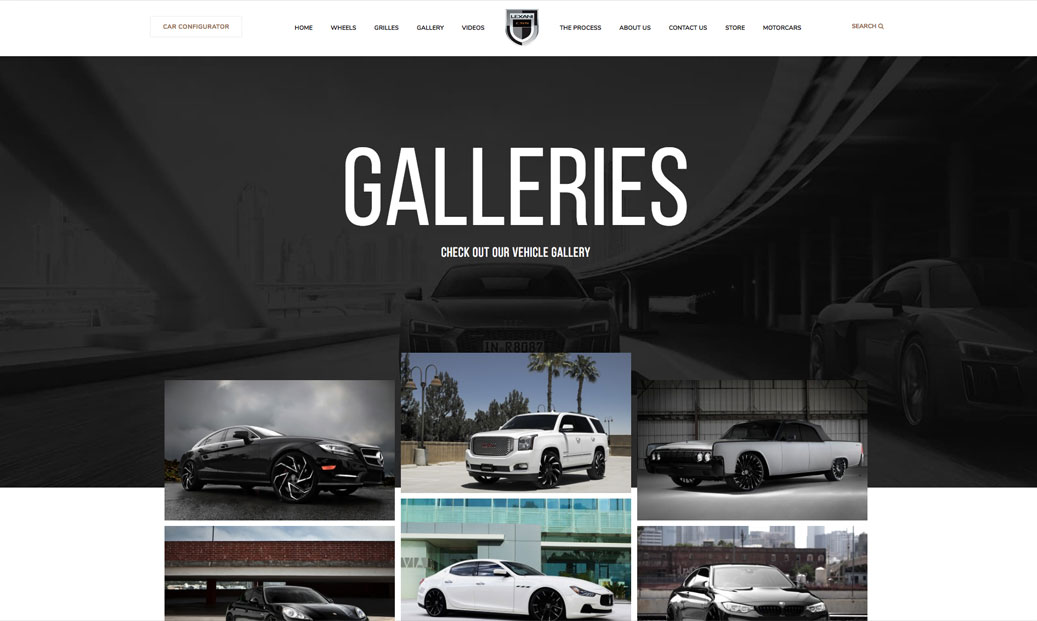 High-Res Photo Galleries
Lexani Wheels is known for their high-quality visuals. Each iteration of their website has featured a robust picture gallery stuffed with actual examples of their products on customer vehicles. The latest version continues in that tradition.
07
Project Outcome
Not surprisingly, the website has received numerous awards for design, user experience (UX) and user interface (UI). The awards are nice, but the real reward has been the growing popularity and reputation of the Lexani Wheels brand.